Zelda Wynn Valdes, a dress designer of the stars
Herb Boyd | 2/7/2019, 12:45 p.m.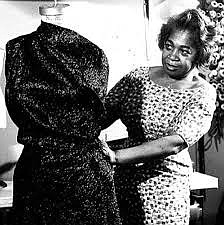 In a recent edition of The New York Times the special section titled "Overlooked" listed several African-Americans who deserved obituaries but never received them. Of the 12 cited only two were unfamiliar, Alfred Hair and Zelda Wynn Valdes. Hair, I discovered, was a promising artist who was killed in a barroom brawl in 1970. He was only 29.
Perhaps in the future, I can devote more time and attention to Hair as I do now for Valdes. Born Zelda Christian Barbour on June 28, 1905, in Chambersburg, Pa., she grew up in Charlotte, N.C. During her formative years she studied to be a concert pianist at the Catholic Conservatory of Music, but by the 1920s she was working in her uncle's tailoring shop in White Plains, N.Y.
She supplemented her income with work as an employee at a high-end boutique where she was a stock clerk. Within months her genius was noted and she advanced to become the company's first Black sales clerk and tailor. As Tanisha Ford wrote in the Times' profile of Valdes, "She quickly gained a reputation as a seamstress with a keen, artistic eye and technical precision and opened her own boutique. It was there that she defined her signature style: a mix of the effortless glamour of her grandmother, whose dresses had all been handmade, and the luxury of the boutique's jet-setter clientele."
By 1948, her shop Zelda Wynn, located on Broadway and W. 158th Street, was the first Black owned business on Broadway. Among her customers were movie star Dorothy Dandridge; opera diva Jessye Norman; and vocalist Gladys Knight. She acquired national attention when she dressed the entire bridal party for the 1948 wedding of Marie Ellington to Nat King Cole. Such exposure expanded her clientele to include a retinue of notables—Josephine Baker, Eartha Kitt, Ruby Dee, Mae West, Marian Anderson, Edna Mae Robinson, the wife of the boxing great Sugar Ray Robinson, and Ella Fitzgerald.
Valdes said she only had the chance to fit Fitzgerald once in 12 years. "I had to do everything by imagination for her," she told the Times in 1994. But her imagination was impeccable and the gowns she designed for the singer were often adorned with brilliant splashes of appliques and beads.
In 1950, she moved her shop, now called Chez Zelda, to midtown Manhattan on 57th Street. She had a staff of nine dressmakers and charged $1,000 per couture gown. Soon, her style and technique, to say nothing of the prominent women she outfitted, caught the eye of Hugh Hefner and he commissioned her to design the bunny costumes for the Playboy Playmates. When she presented the first costume at the Playboy Club in 1960, it became the first commercial costume registered by the United States Patent and Trademark Office. (The bunny costume has been the source of some controversy as to the extent to which Valdes conceived and designed it.)
Closer to home in Harlem, she began in the early 1960s to direct the Fashion and Design Workshop of the Harlem Youth Opportunities Unlimited and Associated Community Teams. Along with her leadership role, she also taught costume designing skills and facilitated fabric donations to the student workshops.