The Rams' offense not ready for prime time in Super Bowl LIII
JAIME C. HARRIS | 2/7/2019, 3:15 p.m.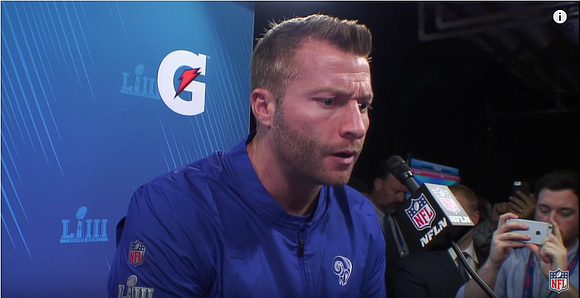 Sean McVay became the newly anointed next great NFL head coach this season by a plethora of media and league executives after helping to lead a turnaround of the Los Angeles Rams from a 4-12 record under former head coach Jeff Fisher two years ago to 11-5 and the NFC West title last season to the Super Bowl on Sunday. But the 33-year-old 2017-18 Coach of the Year award winner's coronation will have to wait.
The young Jedi confronted a true master of the football force, Bill Belichick, in Super Bowl LIII and fell victim to powers he could not combat. Belichick, defensive coordinator Brian Flores, a Brooklyn native who on Feb. 4 was named the new head coach of the Miami Dolphins, and the Patriots' defensive staff devised a game plan that was executed deftly by the Patriots players. They held the Rams, the NFL's second ranked offense in the regular season, to a single field goal over 60 minutes and captured the franchise's third Super Bowl title in the past five years.
"There is no other way to say it," McVay expressed to reporters following the Patriots' 13-3 victory, "but I got outcoached today." He was humble and gracious in stating the obvious. McVay had been daring and creative in crafting an offensive attack that averaged 32.9 points per game and 421.1 yards per outing in its 16-game regular season schedule. Furthermore, Rams quarterback Jard Goff had been lethal in throwing the ball downfield.
Yet, facing arguably the greatest head coach in NFL history, McVay, Goff and the Rams' offense looked overwhelmed and confused. McVay was reluctant to take chances that in part have come to define his success, and Goff was unable to quickly recognize the Patriots' blitzes and coverages, repeatedly failing to connect with open receivers and exploit one-on-one matchups.
He finished the evening 19-38 for 229 yards and an interception and was sacked four times. The Rams were also limited to only 62 rushing yards, a mere 35 by Todd Gurly, perhaps the best running back in football. Gurley inexplicably had only 10 carries and one reception for -1 yard on two targets.

"Last time I checked, defense wins championships," said Rams running back C.J. Anderson. On Sunday, it reigned supreme. So did the Patriots.