Prison conditions send shockwave across city
LEVAR ALONZO Special to the AmNews By CYRIL JOSH BARKER Amsterdam News Staff | 2/7/2019, 1:18 p.m.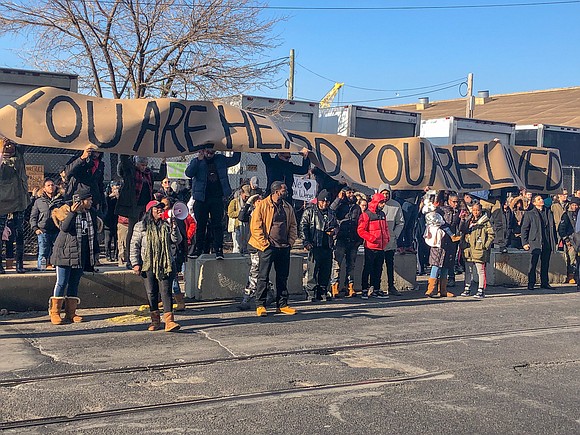 From a federal judge and even the U.S. Department of Justice (DOJ), legal powers from all angles are trying to figure out why prisoners at the Metropolitan Detention Center (MDC) in Sunset Park, Brooklyn were left with no electricity and no heat for days as a polar vortex hit the city.
The DOJ's Federal Bureau of Prison said a portion of the building that holds over 1,650 inmates, had limited power in some areas due to a fire in the switch gear room on Jan. 27. All areas had lights that were on the emergency lighting circuit which was being fed by the utility company. Power was restored Monday, Feb. 4, after a new electrical panel was installed by an outside contractor.
MDC has a mixture of convicted inmates serving time and those awaiting trial.
Tours of the facility were provided to representatives and staff from the U.S. Congress.
All representatives were able to walk the facility, talk to inmates and staff, and observe the institution's conditions.
Inmates didn't have hot water or heat. New York City Emergency services provided blankets to inmates. While the electricity at MDC is fully restored, elected officials and prison rights advocates had a short fuse about the inmates' treatment.
"It is unacceptable, illegal, and inhumane to detain people without basic amenities, access to counsel or medical care," said State Attorney General Letitia James. "Prisoners and detainees have rights and those rights must be enforced."
Frustrations boiled over on Sunday afternoon at MDC after days of protest. Family members wanting to see their loved ones tried to push their way past guards and into the front door. Correctional Officers resisted their efforts by spraying them with pepper spray.
"This hurts. As any mother you don't want to see your child in that but for them to pepper spray people trying to see their family, it's like a Third World country," said Yvonne Murchison, whose son, Desmond Murchison, 31, has been incarcerated at the center for a year. "I'd trade places with him any day, that's my child."
Over 1,600 inmates for the past week have been braving extreme freezing temperatures, lack of hot meals, lack of hot showers and blackout conditions as the center partially lost power. Family members and lawyers were left out in the cold as visitation rights were revoked because the center was on lockdown.
Inmates kept a constant contact with those outside by banging on the prison windows and flickering flashlights.
Murchison said she hadn't heard from her son in days and she just wanted to see him any way she could. She said guards saw people coming in and met them with aggression. They sprayed them in the face with pepper spray and physically fought some others, pushing them out the door.
"Y'all [the media] just getting wind of this, but since last Saturday we been coming down here," she said. "Everyday I came, knocking, hoping to ask my son if he is okay."
Activists along with family members kept up their four day inquiry outside the MDC to keep up pressure on the warden and the federal facility.