LA teachers' strike ends, city agrees to new deal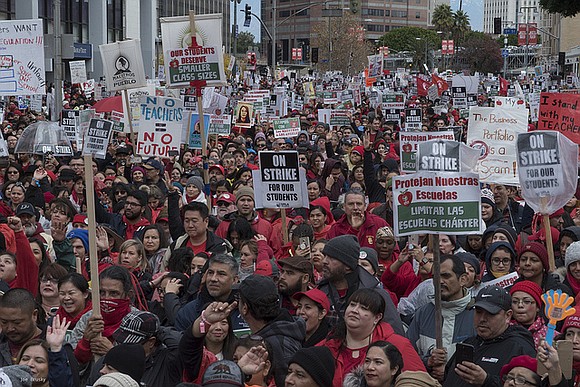 After a six-day strike and a 21-hour bargaining session, Los Angeles public school teachers are back on the job.
The city struck a deal with the United Teachers of Los Angeles that includes a 6 percent raise with no contingencies; hard caps on special education caseloads and release time for testing; and progress on expanding green space and supporting immigrant families.
On top of a salary increase, the board of education will introduce a resolution calling on the state to cap the number of charter schools and create a governor's committee on charter schools at the next BOE meeting. There will also be a three-year process by which class sizes will be reduced by four children and the district will hire 150 full-time nurses, 41 full-time librarians and 17 additional full-time counselors.
"Today marks a new chapter in public education for Los Angeles Unified," said Superintendent Austin Beutner. "Public education is the ultimate labor-management collaborative, and we are committed to working together to make sure every student gets a great education."
"The agreement is a paradigm shift for the city and nation, as it makes a clear commitment to the resources and conditions necessary for teachers to teach and kids to learn in L.A.'s public schools," added American Federation of Teachers President Randi Weingarten in a statement. "This strike and the community support of the teacher strikers flipped the debate over public education in L.A. on its head. And the result is nothing short of a sea change for public schools and for educators in L.A. and in the country."
After more than 20 months of negotiations between UTLA and the Los Angeles Unified School District, teachers took to the streets and the picket lines earlier this month calling for better wages, benefits and working conditions. The unions called on the LAUSD and Beutner to use city reserves and state funding for more school counselors, nurses and librarians, to cap class sizes and to prioritize underfunded neighborhood schools.
Organizing large rallies, UTLA members, which include teachers, librarians and school nurses, managed to build a base of support that consisted of other unions (local firefighters joined them on the picket lines), elected officials and Hollywood actors (including Alyssa Milano).
The LAUSD and the UTLA also agreed to form joint committees that would work together to provide recommendation on issues such as charter school co-location, pay equity across adult and early education, Regional Occupational Centers/Regional Occupation Program and an English Learner Master plan that includes American Sign Language.
Beutner hopes to keep the attention on long-term funding.
"Forty years of underinvestment in public education cannot be solved in just one week or with just one contract," Beutner said. "Now that students and all educators are heading back to the classroom, we must focus our attention to properly fund our schools for the long term."
In the meantime, UTLA President Alex Caputo-Pearl hopes other teacher unions realize their power based on this result.
"For too long teachers have lived with a hard truth to tell—that for years our students were being starved of the resources they need," stated Pearl. "Our expectations were fundamentally raised by this strike. Together we said we deserve better, our students deserve better. We must keep our expectations high and not let go of this moment, because the next struggle is right around the corner."