Octavia Butler, the doyenne of sci-fi
Herb Boyd | 9/6/2018, 6:22 p.m.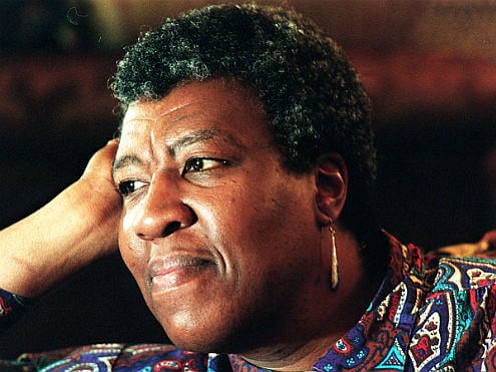 A few weeks ago at The Stone at the New School, flutist/composer Nicole Mitchell led her ensemble into the "Xenogenesis Suite," dedicated to the author Octavia Butler. Mitchell has also recorded the suite that was released on the Firehouse 12 label. Several months ago during a visit to Abu Dhabi, I attended a performance based on the "Parable of the Sower," one of Butler's most popular novels. Her imaginative flights, her science fiction has often been cited in reviews of the "Black Panther" film, especially on the pertinence of Afrofuturism, and at least one writer feels Butler's vision has also been appropriated in Beyoncé's "Lemonade."
The point here is that Butler continues to have currency via a variety of interpretations of her works. Such was the potency of her vision, the genius of her creativity, to say nothing of her energetic production.
Octavia Estelle Butler was born June 22, 1947, in Pasadena, Calif. She was raised by her mother after her father's death. An introverted child with a slight trace of dyslexia, her refuge at an early age was the library, particularly in the stacks where the fantasy books were located. She was 10 when she asked her mother for a typewriter and began creating science fiction stories. When she wasn't banging away on her typewriter she helped her mother clean houses and experienced very early being at the mercy of employers who were less than kind. This powerlessness was one of her first motivations to become a writer as a way for her to gain control over her life and creativity.
At 12, after watching a televised version of the film "Devil Girl from Mars," she believed she could write a better story. To demonstrate this conviction she drafted a story that would be the basis for her Patternist novels. With little understanding of the difficulty Black women faced in publishing, she asked her junior high school science teacher to type her first manuscript, which she submitted to a science fiction magazine. Similarly to the way Malcolm X was told not to aspire to be a lawyer, Butler was advised by her aunt that "Negroes can't be writers."
"After graduating from John Muir High School in 1965," according to her biographer Carolyn Davidson, "Butler worked during the day and attended Pasadena City College at night. As a freshman there, she won a college-wide short story contest, earning her first income ($15) as a writer. She also got the "germ of the idea" for what would become her novel "Kindred." An African-American classmate involved in the Black Power Movement loudly criticized previous generations of African-Americans for being subservient to whites. As Butler explained in later interviews, the young man's remarks were a catalyst leading her to respond with a story providing historical context for the subservience, showing that it could be understood as "silent but courageous survival." Butler graduated from Pasadena City College in 1968 with an associate of arts degree with a focus in history.
Despite her mother's desire that she focus on more gainful employment, Butler continued to work at jobs that would not interfere too much with her determination to be a writer. Even so, it was an exceedingly exasperating route to success as she often emulated some of her favorite white writers. She soon succumbed to enrolling at California State University, in Los Angeles, and taking writing courses through UCLA Extension.