How to spend two days in Toronto
SHERYL NANCE-NASH | 10/5/2018, 2:27 p.m.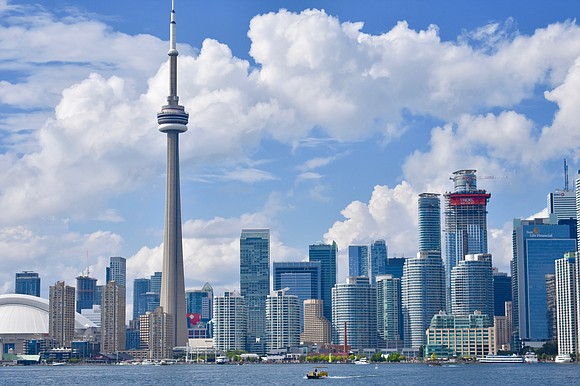 Toronto is a big city, but instead of gobbling you up, it invites you in. The vibe is casual, relaxed. Maybe a part of that is because people are glad to be here. A lot of the folks left elsewhere to call Toronto home. In fact, 51 percent of residents were born outside of Canada. More than 140 languages and dialects are spoken. That kind of variety sets the stage for a vibrant metropolis. You'll see it in the food, fashion, arts —everywhere.
If culture is your thing, Toronto is your kind of town. There are more than 100 museums, 500 music venues, 50 ballet and dance companies, two symphony orchestras and six opera companies. Although this city is known for its international film festival and jazz festival, Caribbean Carnival and Summer Music Festival, those barely scratch the surface. You'll have a hard time deciding—Do you go to the theater, go to the ballet, see an opera, head to the Roy Thompson Hall for the symphony, hear jazz at the Rex Hotel or dance salsa at Lula Lounge? It's a good problem to have. You know Toronto must have a certain cool factor if it's home to the likes of Drake and The Weeknd.
With so much ethnic diversity, tease your palate with cuisine from all over the globe among the hundreds of restaurants. Despite this plethora of eateries, the food truck craze is alive and well. Find out what truck is where at torontofoodtrucks.ca. Microbrews are popular, too. Check out Steam Whistle Brewing, Mill Street Brewery and Amsterdam Brewery, among others.
The mix of neighborhoods is intriguing. Take, for example, Kensington Market. Don't think of it as a market per se, but a funky hood with hipsters, Rastas, punk rockers, college kids, professionals, tourists—an eclectic mix that you don't see every day, soaking up the unusual, just chilling. There's music, restaurants, hole in the wall places with legendary grub. Vendors sell everything from jewelry to costumes. Expect vintage stores, coffee shops, cafes, each more fascinating than the next. Food will satisfy an array of tastes: Ital Vital (vegan), La Chilaca Taqueria (Mexican), Saigon Lotus (Vietnamese), ice cream, pastries, you name it, and one-of-kind-shops such as Breathless Vintage. The air is full of scents—incense, soaps, spices, teas, coffee. Your senses will be on full alert.
A flight from New York to Toronto is less than two hours, making it ideal for a long weekend. Stay at the 4-star Delta Hotels Toronto. You're in for a good time. Here's how to spend two full days there.
DAY ONE 7 a.m.
Start your day off with a stop at SOCO Kitchen + Bar in the Delta Hotels Toronto for a hearty breakfast to fuel your day. Order the popular Peameal Benny, consisting of peameal bacon (this cut of pork loin is lean, cured in a wet brine and rolled in cornmeal and much beloved by Canadians), two poached eggs, citrus hollandaise, English muffin and fresh cut fruit or breakfast potatoes.
9 a.m.