…And food at Oscar Wilde
Kysha Harris | Food Editor, @SCHOPgirl | 10/5/2018, 2:43 p.m.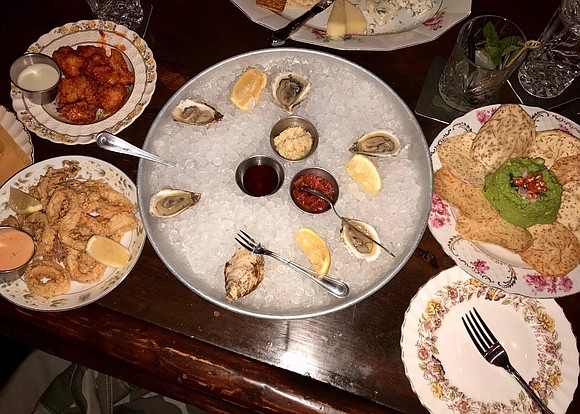 While Oscar Wilde (@OscarWildeNYC) bartender Kris Baljak was plying my friend and me with gorgeously prepared cocktails at the whiskey bar, manager Luis Martinez made sure we had a couple of their signature victuals. They were much needed to keep us upright. Thank you, Luis!
We started with a cheese plate of blue cheese, Brie and manchego with grapes, crackers and a perfect Thai chili honey. It went well with the Happy Prince sparkling cocktail and lined the stomach for more food.
Though there are sandwiches and entrees to be had, we opted to stick with the appetizers to go along with our cocktails at the bar. We tried the broccomole (broccoli + guacamole) with taro chips, Wilde calamari with lemon harissa aioli, buffalo cauliflower and a half dozen of the raw oysters.
Luis came to check on us and asked if we wanted anything else, and thank goodness he did lest we would not have had the best bite of the evening—the wings! Curry dry-rubbed and fried crisp with blue cheese dip and that Thai chili honey from the cheese plate. Loved 'em at first bite without any of the sauces.
We had a super evening at Oscar Wilde! I will certainly return to celebrate their anniversary, and Oscar Wilde's birthday too, Oct. 16!