Knicks focus on building for the future
Jaime C. Harris | 10/4/2018, 2:49 p.m. | Updated on 10/4/2018, 2:49 p.m.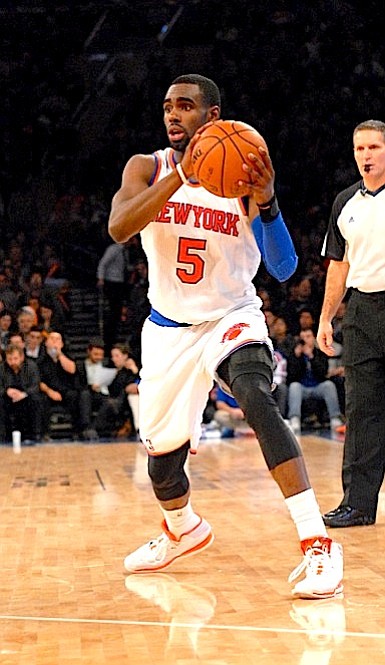 The New York Knicks, who faced the Nets last night (Wednesday) at Barclays Center, opened their 2018 season Monday—sort of—against the Washington Wizards. Although it was a preseason game and will be a distant memory when the games that truly matter start Oct. 17 when they will host the Atlanta Hawks at Madison Square Garden, the Knicks' 124-121 overtime win over the Wizards bore some positive signs.
Rookies Kevin Knox and Mitchell Robinson weren't overwhelmed or awe-struck in their NBA debuts. Starting at power forward, Knox tallied 13 points and a team high 10 rebounds in 26 minutes. The 19-year-old displayed a confident demeanor and poise that belied his youth.
His versatility, which is a quality the Knicks coveted when they selected him ninth overall in the draft this past June, was illuminated as he showed an impressive level of comfortability both in the paint and on the perimeter on the offensive end of the floor.
The 20-year-old Robinson immediately established he is not going to be intimated by veteran opponents, holding his ground as he and Wizards' forward Markieff Morris engaged in a verbal joust during the second quarter. Morris was ejected for continuing to antagonize Robinson after initially receiving a technical foul. Robinson finished with 6 points and 7 rebounds, but his and Knox' stats are secondary to their ongoing development.
Knicks president Steve Mills, general manager Scott Perry and first-year head coach Dave Fizdale have all openly acknowledged this season is one in which the Knicks are centering their attention on establishing a foundation for the future. Although there will be a great deal of emphasis placed on growing the aforementioned rookies, as well as second-year guard Frank Ntilikina, this season will also be significant in determining how guard Tim Hardaway Jr. fits in their plans.
The 26-year-old Hardaway was originally drafted in the first round by the Knicks in 2013, traded to the Atlanta Hawks in June 2015 and resigned by the Knicks as a free-agent in the summer of 2017 to a four-year, $71 deal. Hardaway's return to the Knicks was marred by a stress injury to his left leg and he was limited to 57 games.
Although he averaged 17.5 points per game, Hardaway shot only 42.1 percent overall and slightly under 32 percent from behind the 3-point line. Those numbers must rise substantially if he is going to justify being the Knicks long-term starting two-guard.