Anita Hill in 2018
CHRISTINA GREER PH.D | 10/4/2018, 1:59 p.m. | Updated on 10/4/2018, 1:59 p.m.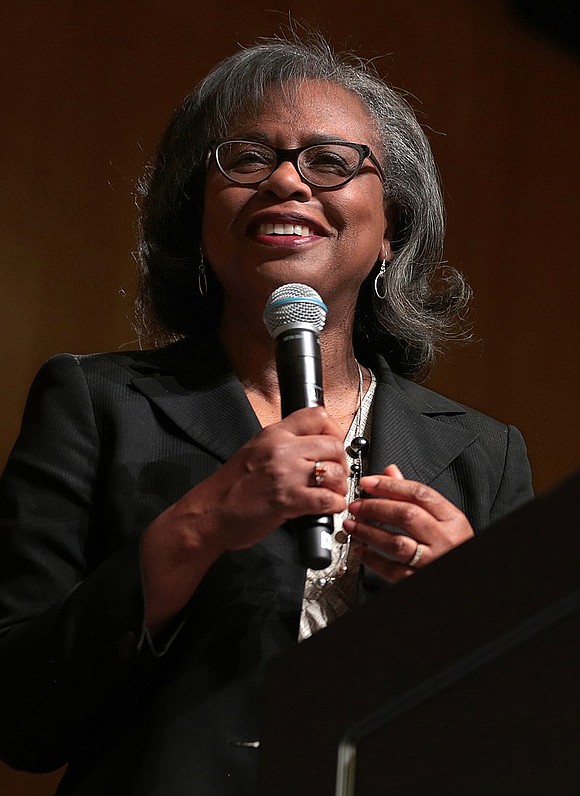 This country does not deserve Professor Anita Hill. As we go through yet another Supreme Court hearing where Republican senators are attempting to push through yet another accused sexual predator, it is abundantly clear to me that this country is willing to ignore the realities that so many women have faced at the hands of abusive, inappropriate and predatory men.
In 1991, Hill bravely faced a crowd of all-white male senators as they asked her personal and inappropriate questions during the hearings before the vote to appoint Clarence Thomas to the Supreme Court, a lifelong position in the highest court in the United States. In so many ways, Anita Hill was put on trial. However, she never wavered and stood firmly with the truth solidly on her side.
I remember watching the hearings with my parents on the small kitchen television while I was a middle school student. I remember seeing this brown-skinned woman who looked somewhat like my own mother with her impeccable outfit, her purple-ish lipstick and her head held high and back firmly straight. She was strong and beautiful and under attack and courageous and not just staring down a group of all-white men. In so many ways, she was facing down the racism, patriarchy and structural inequality that have systematically kept women, people of color and, especially, women of color from receiving full benefits and equality under the law in these United States.
The Republican Party seems to have no problem firmly solidifying their role as the party that harbors men accused of sexual abuse and assault. Clarence Thomas, Donald Trump and now Brett Kavanaugh are a stain on the party as well as American democracy writ large. It appears Republican senators are more concerned with getting yet another conservative member on the Supreme Court and are willing to ignore real allegations from Dr. Christina Blasey Ford. It does not matter if Professor Ford is speaking up about an event that occurred when she and Kavanaugh were teenagers. If Kavanaugh is to ascend to one of the most important lifelong occupations in this country, we must fully investigate Ford's allegations.
Hill is living proof that men in power are willing to ignore the actions of their colleagues to satisfy their own agendas. Hill is also living proof that the same country—and some of the same senators—that did her a disservice and treated her so poorly nearly three decades ago is poised to possibly repeat history.
The courage of Hill, Ford and so many other women who dare to speak up are an inspiration and the true definition of what this country should be. Let us now work toward making sure it's not just women who uphold the true essence of equity and justice.
Christina Greer, Ph.D., is an associate professor at Fordham University, the author of "Black Ethnics: Race, Immigration, and the Pursuit of the American Dream," the co-host of the new podcast FAQ-NYC and the host of The Aftermath on Ozy.com.