African-American youth wins prestigious Diana Award
PRINCESS JONES | 10/4/2018, 12:36 p.m.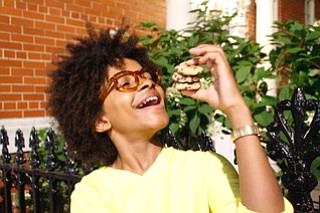 At 6 years old, Corey Nieves tapped into his entrepreneurial spirt by starting a cookie business. Now at 14, Mr. Cory's Cookies is a successful business that sells natural gourmet cookies. A bigger part of Nieves is his heart of generosity, which leads him to give to various charity organizations. These acts of selflessness won Nieves the Diana Award.
"I was at my office and I believe email was how I found out about the award. I was like, 'Oh wow this is amazing,'" said Nieves.
The Diana Award is in honor of the late Princess Diana of Wales, a member of the British royal family. The prestigious awards are given to young people between 9-25 years old. It's the highest award given to youth for social and humanitarian work. In 2018, 10 U.S. youth were picked for this award.
Knowing that other kids are doing great charity work in their communities made Nieves happy.
"I was extremely happy because that means kids are running the world and doing something else instead of playing games or hanging in the streets," said Nieves. "They are caring for other people and sometimes it helps other adults care for people. Because if you see kids doing it, they would be like, 'Oh I should do that too,' and it starts a trend."
Since the beginning Nieves' business has always been about serving.
"First it was to get my mom a car. Then I did it for college and didn't understand the business point of view yet. After two years I started understanding the business, started making profit," said Nieves.
Nieves' choice of cookies came from smart business perspective, as well as the love of cookies.
"We started off with hot chocolate but changed to cookies because it's a more seasonal thing. Our ingredients are all natural, we wouldn't want to put something in there that we wouldn't eat," said Nieves.
His experiences shape what organizations he is passionate about.
"I love helping single moms and average kids because my mom is a single mom and I am an average kid too," he explained.
For Nieves a lot of joy comes out of donating to different shelters.
"We donate to multiple charities and sometimes after events we have cookies and we give them to different shelters, like for single moms and family shelters. We also do events and cooking shows for shelters. Like hospitals, young parents, and we just love helping other shelters," said Nieves.
Influences are important in shaping a young person's life and he would like to use his influence for the good of his peers.
"I like to influence other kids and younger kids on starting a business in entrepreneurship. I want other kids to know there is something else to do then playing games or hanging out in the streets," said Nieves. "Rather doing something else and get in trouble, you can start something good, start a business and make money. You can have money when you go to the store. Or if your mom says, 'No I don't have the money right now.' You can say, 'I don't need your money; I have my money.'"
Even though Nieves is young in age, he is wise in many areas, especially in what it takes to run a successful business.
"It's not easy, it's not like five seconds and you become a millionaire. It takes time, dedication and effort that might take years, months, it might take days for you to be successful," said Nieves. "You don't start the business because you want money and say, 'I think I'm going to be rich now,' then quite your job. Stay with your job and if you actually have a good idea and passion for it, then get started."