Walter Williams talks O'Jays' 60-year career, final album
Jordannah Elizabeth | 11/29/2018, 4:21 p.m. | Updated on 11/29/2018, 4:21 p.m.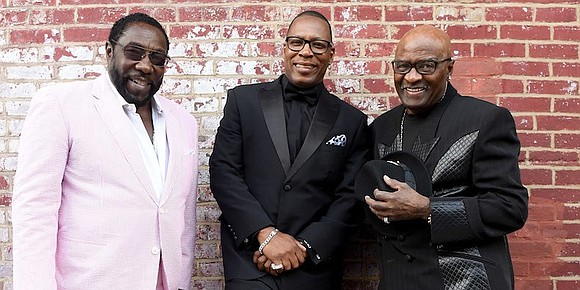 Formed in 1958, the iconic R&B group, The O'Jays, who recorded and performed massive hits in the '70s such as "Love Train" and "Back Stabbers," are ending their 60-year recording career with a final album called "The Last Word," which is due for release Feb. 22, 2019, via S-Curve Records. In October 2018, the group released the "The Last Word's" debut single, "Above the Law," which was co-written and co-produced by legendary soul music composer Betty Wright.
Some of "Above the Law's" lyrics include "So now man with pen in his hand, Changes the lay and the law of the land, Abe helped out a bit, Martin did what he could, and it might've worked out but evil exists As well as good. Re-invent slavery, Erase the war on poverty, Separate primarily by class, Stealthily, carefully…"
Original member Walter Williams spoke to the Amsterdam News via phone about the politically and socially charged single, and his desire to close out his successful career with The O'Jays with a message of love, kindness and grace.
AmNews: Your final album, "The Last Word's" title seems to be appropriate, but underneath the surface, you all have literally been a group for over 60 years. Does it take that long to attain the wisdom to give your final message?
Williams: I wouldn't say it takes that long, but what continues to happen in society and in this world, things keep happening that you want to talk about. You want to express [things about] where you live and how things are going, and what the climate is, whether they have improved or stayed the same or if they've gotten worse.
I don't think time has anything to do with it. I think you have to live, and if you live all of these things happen. And they're interesting. These are very interesting times.
AmNews: That's a Chinese proverb, "May you live in interesting times."
Williams: That's a Chinese proverb? Wow!
AmNews: Tell me the backstory and meaning of the album's first single, "Above the Law."
Williams: It's a godself for The O'Jays. We've always done message type stuff, from "Love Train," to "Love of Money," to "Backstabbers" and "Give the People What They Want." We've always done this type of music. It's like or like while you dance and enjoy the music, there's a big fat message in it. If you take the time, you might learn something or it will at least peak your interest. This song came right on time.
I like what it's saying. It's very truthful I think. If you listen, you could do some research to see if we're telling the truth or if we're just making up stuff.
AmNews: When was the first time The O'Jays have been political and socially vocal in your music?
Williams: I would say it started back in 1972 with "Love Train." I think it was political. It speaks of love. It speaks of getting along wherever you live. I think we mentioned England, Germany and Russia. We mentioned a lot of countries, and still today it holds true.