Mesa: Arizona's magical city
Sheryl Nance-Nash | 11/29/2018, 5:06 p.m. | Updated on 11/29/2018, 5:06 p.m.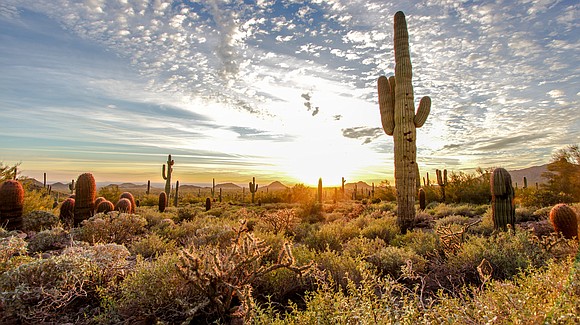 The combination of the Sonoran Desert and Superstition Mountains makes for much magic in Mesa. Arizona's third largest city is home to more than 40 golf courses and 56 parks. Hit the trails for walking, hiking and biking. Birdwatch in the Tonto National Forest. Kayak or paddle board on Saguaro Lake. Outdoor enthusiasts call Mesa their "happy place."
With more than 900 restaurants, Mesa makes foodies fall hard, and with good reason—the grub is great. For sure, Mesa is about food, glorious food. Spend time along the Fresh Foodie Trail and experience the Mesa food story firsthand. Wind your way through Mesa and the towns of Gilbert and Queen Creek, stopping at more than a dozen culinary attractions, including farms, orchards, citrus groves and an olive mill. There's plenty to see and do, so maybe a few highlights will tempt you.
The Olive Oil 101 Tour & Tasting at Queen Creek Olive Mill is the state's only family owned and operated working olive mill and farm. Olives are grown and pressed there to make extra-virgin olive oil. Get ready to taste an array of olive oils, such as roasted garlic, bacon, Mexican lime, vanilla and white truffles, among others, as well as olives and tapenades. All the tasting will likely prime you for a meal at del Piero, the Tuscan-inspired, on-site restaurant. The garlic fries are hard to stop eating, as is the bacon and avocado bruschetta, but save room for the Queen Creek Chopped Salad, made with seasonal greens, cucumbers, garbanzo beans, tomatoes, kalamata olives, genoa salami, red onions, feta and lemon vinaigrette with Meyer lemon olive oil, or goodies such as the kalamata, The Pork Shop kalamata salami, genoa salami, capicola, herb roasted tomatoes, green leaf lettuce, provolone, red onions, zesty herb crema and Mediterra ciabattina.
You want to hit Hayden Flour Mill at Sossaman Farms. Here the priority is native seeds and growing heirloom wheat with little fiddling, meaning minimal processing. Tour the milling operation and if you like, participate in a baking class or pasta-making demonstration. Then, if you want to see something unique, go to the True Garden Urban Farm. It's a 5,000 square-foot vertical urban farm that is solar-powered. They host a weekly farmers market and offer seminars and education about organic growing practices, health and wellness. Ice cream lovers will want to visit Superstition Dairy Farm. You can tour the fourth-generation family farm; take a hayride; and hang out with goats, sheep, miniature donkeys, chickens and other animals at the petting zoo. Save the best for last—homemade ice cream that's called Udder Delights because that's what it is. Try flavors such as Arizona Sunset, Bubble Gum, Cake Batter and white chocolate raspberry. Cheese heads won't be disappointed with options such as pesto, dill and red onion, chipotle, roasted red pepper and garlic
pepper cheeses.
Another must-stop is Agritopia, an urban/rural community where 11 of the 160 acres are certified organic farmland. Crops include artichokes, zucchini, peaches, olives, tomatoes, carrots, kale and more. You can get same-day harvest at The Farm Stand, and you know when you sit down at Joe's Farm Grill and The Coffee Shop, what you eat is hyper local, about as fresh as it gets. Also cool in Agritopia are Barnone, a collective of 12 artisans, including woodworkers, florists and letterpress printers, and Garage East, a microwinery.