Dizzy's Club presents 'Once in a Lifetime: Obba Babatundé and Friends' Dec. 6
AmNews Staff Reports | 11/29/2018, 4:30 p.m. | Updated on 11/29/2018, 4:30 p.m.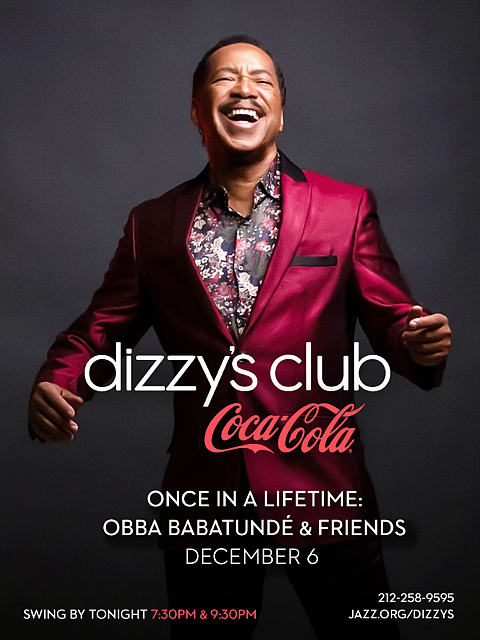 Obba Babatundé's expansive career spans more than four decades, and his uncanny ability to captivate his audiences has made him a memorable presence in film, on television and on the stage. For his "Once in a Lifetime" evening at Dizzy's Club Coca Cola on Dec. 6 (Fifth Floor, Frederick P. Rose Hall, Home of Jazz at Lincoln Center, on Broadway at 60th Street), he has created a dynamic and surprise-filled program with musical direction by Ray Chew. Babatundé takes the audience back in time to the great jazz era of nightclub performing, reminiscent of the legendary artists of that period, backed by an all-star band featuring Patience Higgins, Earl Mcintyre, Tommy Barney, Brian Brake, Winston Byrd and Keisel Jimenez.
As a highlight of this special evening, Babatundé will celebrate the birthday of and pay tribute to his entertainment mentor, friend, fellow Sagittarius and native New Yorker Sammy Davis Jr. In this rare, one-night only show, Babatundé returns to his hometown to present his unique approach to the music of the great American Songbook. Sharing inside stories about his life and career and joined by some of his legendary friends, he generously relives some of those moments through song, music and maybe even some dancing and impersonations.
A multiple award winner with an Emmy, a Tony, an Icon, an Entertainer of the Year and an Ovation (just to name a few), Babatundé has been recognized as an NAACP Trailblazer. Internationally recognized for his "post-Vaudvillian" style of entertaining, which encompasses acting, singing, dancing, impersonations and musicianship, he is a total performer and, like Sammy Davis Jr., surpasses being a "triple" threat. Babatundé continues to be celebrated throughout Africa, Asia, the Caribbean, Europe and, of course, North America.
Purpose and a sense of social responsibility have long informed Babatundé's artistic work as well as his charitable and volunteer efforts. As a committed arts education advocate, he was a co-founder and teacher with his brother, Akin Babatunde, in creating one of New York City's first arts-based public schools in Brooklyn. Today he is both ambassador and arts education mentor to Get Empowered!, a national multicultural arts education, mindfulness and diversity inclusion organization for children.
For more information, visit www.jazz.org/dizzys or call 212-258-9595.