Knicks youngsters get increased minutes in the team's rebuild
Jaime C. Harris | 11/8/2018, 2:31 p.m. | Updated on 11/8/2018, 2:31 p.m.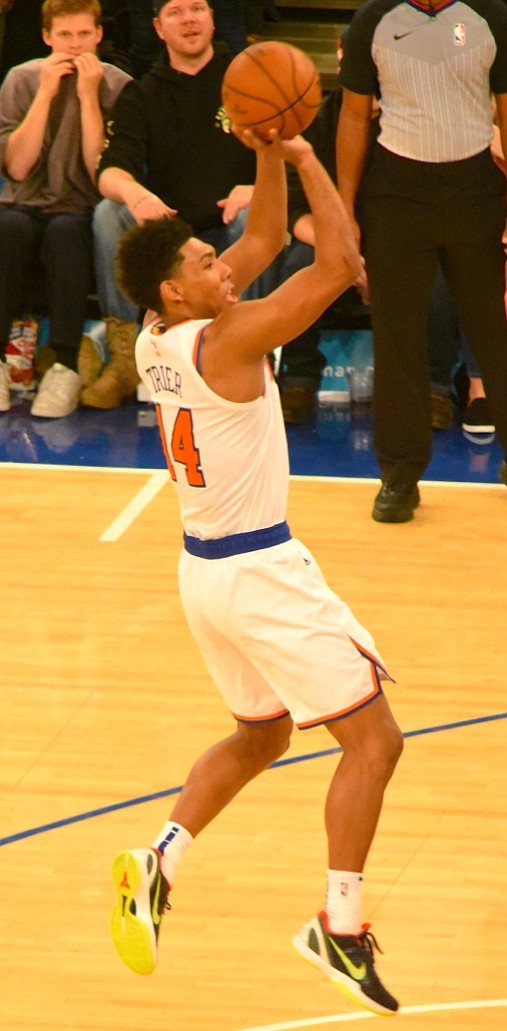 Monday night at Madison Square Garden, Knicks head coach Dave Fizdale put the ball in the hands of undrafted rookie Allonzo Trier at crunch time to make plays against the Chicago Bulls. The 22-year-old guard from the University of Arizona displayed poise and confidence, scoring 21 points in his first career start. The evening ended for the Knicks with a 116-115 double-overtime loss but was a signifier of the franchise's commitment to its rebuilding process and youth movement.
"Tough one to take on the chin," said Trier of the defeat. "Those are games you want to win. We were right there. I guess we've had a lot of moral victories, but we have to find a way to get over the hump."
It's a similar refrain often heard from Fizdale as he guides the Knicks through necessary growing pains. They were 3-8 before going up against the Atlanta Hawks on the road last night (Wednesday) before traveling to Toronto to face the Raptors Saturday.
"Every night I'm just really proud of this group," said Fizdale after falling short to the Bulls. "We're going to keep chopping this tree. We're going to get over this hump. I see great character in this team. The way they bring it every single night. No matter who's on the court for us. No matter who's healthy, these guys compete."
The oldest player in the Knicks' starting lineup versus the Bulls was 24-year-old Damyean Dotson, a second-round pick by the Knicks (44th overall) in the 2017 NBA Draft who has emerged as one of their best players on both ends of the court this season. In addition to Dotson and Trier, the others were Noah Vonleh (23), Frank Ntilikina (20) and Mitchell Robinson (20). Trier was given the start in place of the Knicks' leading scorer Tim Hardaway Jr., who was out with back discomfort.
Arguably the most productive player for the Knicks this season has been center Enes Kanter. Although he is in his eighth season in the NBA, the 26-year-old Kanter is also still young. He has followed up a 2017-18 campaign in which he averaged 14.1 points and 11 rebounds for the Knicks in 25.8 minutes per game with averages of 15.3 points and 11.7 rebounds this season.
Ironically, he is averaging more minutes per game—27—coming off the bench than he did as a starter last season since being placed in that role against the Golden State Warriors two weeks ago, as Robinson was moved in as the starting center. It was a shift Kanter accepted reluctantly.
"I'm not worried about coming [off] the bench or starting or not," said Kanter when the change was made. "I don't care if they put me on the bench, start me, whatever. My thing is to go out there and beat everybody."
His actions have matched his words. Kanter pounded the Bulls with 23 points and 24 rebounds in 41 minutes.