'Fireflies' illuminates with powerful performances thru Nov. 11
Linda Armstrong | 11/8/2018, 4:40 p.m.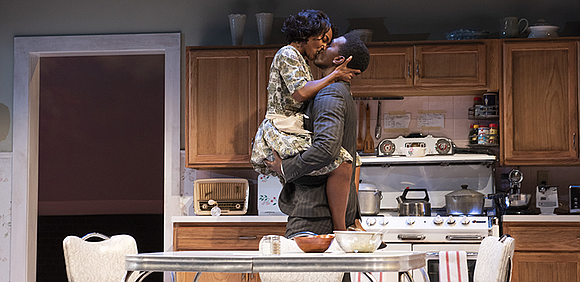 Have you ever gone to a play and couldn't blink or cough, you only wanted to keep your eyes and senses focused on the actors? Have you ever experienced a gripping, moving storyline that had many unexpected twists and turns and made you ask yourself where the story was going, but found yourself stunned by the power of the writer and speechless at the end of this engrossing work? Well, that begins to describe what I felt while watching "Fireflies," the new play presented at Atlantic Theater Company's Linda Gross Theater on West 20th Street.
This unique, brilliant, captivating and riveting drama tells the story of the Rev. Charles Grace, a Black minister involved in the Civil Rights Movement, especially after the bombing of the church in 1963 in Alabama, where the four little girls lost their lives. The pastor has a wife Olivia who writes all his sermons. She is his right hand and plans his itinerary. She is a Black woman who does not have a defined identity. She is also someone with secrets and forbidden desires. Olivia is also pregnant during a time when Black children are being murdered, which makes her question wanting to bring a child into the world.
Playwright Donja R. Love gives the audience two characters that have many layers to them. Nothing is black and white. Love looks at the way that Black women were seen in the 1960s, even those women who supported their husbands who were part of the Civil Rights Movement. Back then women were relegated to being a wife and mother and doing all the cooking and cleaning. Women didn't really have a separate identity. Love also looks at infidelity and what that can do to a marriage, especially when the woman has seemingly dedicated her life to her cheating husband.
Love examines the larger picture of society in the 1960s and how much hatred was out there and blatant brutality. Racist whites would frequently murder Black people and faced no penalties. Black people, especially those in the Civil Rights Movement, faced death every time they walked out of their door to march or go to an event. There were no boundaries to the hatred and cruelty of white racists.
This drama is moving. It touches your soul in a way that will bring you to tears. Many of the people in the audience were crying. I think the most touching aspect to this production is when you find out the reason for the title, so I won't explain that to you.
Suffice it to say, "Fireflies" is a must-see, and it has an ending that will leave you speechless! I know it left me that way. When the show was finished and the audience rose to their feet all I could do was clap, but I couldn't utter a word. I was too overcome with emotion. "Fireflies" features amazing direction by Saheem Ali and the superb cast of Khris Davis and DeWanda Wise. It is the second of a trilogy of three plays that Love is creating. The first play was "Sugar in Our Wounds," which talked about the horrors of slavery. There is a connection to the first play near the end of this production. If you saw "Sugar in Our Wounds," then I know you were as moved as I was and therefore you know you must plan to see "Fireflies." "Fireflies" is playing through Nov. 11.