Brooklyn hits the road with back-to-back victories and back-to-back games
Vincent Davis | 11/8/2018, 2:41 p.m. | Updated on 11/8/2018, 2:41 p.m.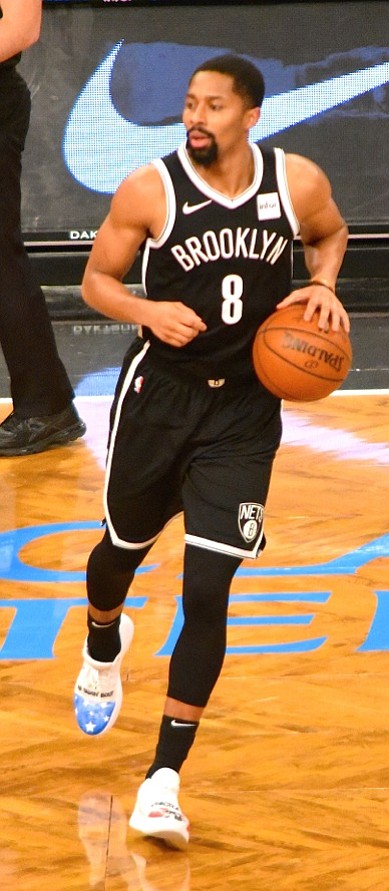 Rondae Hollis-Jefferson, on the right side of the court, gets the ball and drives on Philly's Robert Covington and one hand slams it for his 16th and 17th points of the night.
Jefferson's 21 total points and overall play Sunday evening against the Philadelphia 76ers helped lead the Brooklyn Nets to their fourth win of the season, their last home game before a four-game, seven-day road trip through the Western Conference.
Brooklyn's first stop was in Phoenix against the Suns Tuesday night, a 104-82 win, their first back-to-back victories since their season began Oct. 17.
Brooklyn has already had their share of losses this season, by large and by narrow margins. Through it all, players, i.e., Jefferson, Caris LeVert, Spencer Dinwiddie, Joe Harris, D'Angelo Russell, have been stepping up each night. Dinwiddie's 3-pointer with 7.1 seconds left on the overtime clock Wednesday helped the Nets defeat the Detroit Pistons 120-119. Overall, he dropped 25 points and had 4 assists and 4 rebounds off the bench in 32 minutes. Harris had a game high of 25.
"We've been in this experience a lot," said Harris, the Nets small forward. "A lot of close games last year. A lot of close games to start the season. For us to close one out, execute down the stretch, take care of the ball and execute defensively, this is huge in terms of confidence for us."
Harris and his teammates recognize wins like this win for what it is, a morale booster, a confidence builder. It highlights some of the talents of this one game under .500 team. They have the ability to compete.
Brooklyn's blow-out win Tuesday against Phoenix on the road, a team that is also struggling, was also important. It highlights their ability to beat a lesser team, a struggling opponent.
It's a game we definitely needed to win," said Ed Davis about the 2-8 Suns. "You look at the schedule and you know who you have next, and this one is definitely a winnable game."
Brooklyn travels to Denver for tomorrow (Friday) night's game with their 5-6 record, and then on to the Golden State Saturday to play the Warriors, the defending champions, before closing out the road trip with the Minnesota Timberwolves Monday, returning home to the visiting Miami Heat Wednesday.