NY and NJ teams ready to show their skills
Lois Elfman | 11/1/2018, 3:12 p.m. | Updated on 11/1/2018, 3:12 p.m.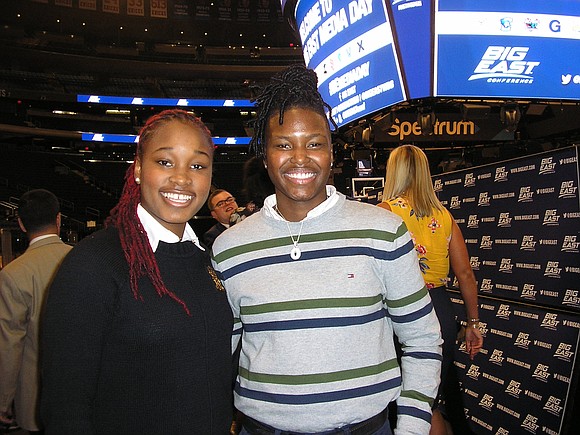 They might only be ranked sixth and eighth in the Big East women's basketball preseason coaches' poll, but the players and coaches of St. John's University and Seton Hall University are determined to impress on the court. During last week's Big East Conference media day, enthusiasm and positivity were abundant.
St. John's senior guard/forward Akina Wellere is looking forward to one more season with her teammates. "All of us are leaders because all of us help each other and hold each other accountable," she said.
Sophomore guard Qadashah Hoppie isn't dwelling on last season's conference Freshman of the Year honor. "You can't become complacent," said Hoppie, who's working on her pullup game. "There are always things you can fine-tune and make better in your game—bring you to a higher level."
St. John's lost some of its inside presence to graduation, so the focus is on being quicker. "One of the biggest strengths we had last year was the balance we had in our scoring," said coach Joe Tartamella. "I think we have the ability to do that again this year. We've also tried to key in on being a better defensive team."
Across the water, the Seton Hall Pirates are looking to start strong in nonconference action and build from there. "Learn from those tough games, take it into Big East play and hopefully make it into the NCAA Tournament," said senior guard Nicole Jimenez. "I have high expectations," said senior guard Inja Butina.
It's the final year for guard Kaity Healy, who'll graduate in 2019 with undergraduate and graduate degrees. "Coach B deserves to win," said Healy, referring to head coach Tony Bozzella. "All the hard work that we've put into this program and into this system, we definitely will put it all out there."
Now in his sixth year as head coach at his alma mater, Bozzella said the players have a chance to set a standard for future teams. "We're very fast-paced, very up-tempo, trying to get 85 to 90 possessions a game, shoot a lot of threes and establish this for the next three to five years of our program," said Bozzella. "We're blessed with some tough, hard-nosed, hard-working kids."
He added, "I always want to represent this institution in the best possible light—through obviously success on the basketball court, but more importantly success off the basketball court as well."