'Black Panther' Chadwick Boseman returns to Howard University for commencement address
Lauren Poteat (NNPA Newswire Contributor) | 5/14/2018, 5:35 p.m.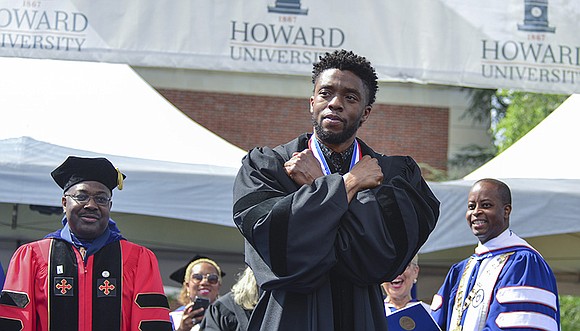 Boseman also praised the students for their drive and perseverance in organizing the longest sit-in protest at Howard University's administration building in the school's history. Allegations of mismanagement in the school's financial aid office sparked the protest, which lasted nearly two weeks in April.
"Everyday that you fought for, was not for yourself, but for those that come after you," Boseman said.
Overcome with gratitude and excitement, Howard graduate Kyla Maupin, who received her degree in French, expressed her sentiments about Boseman's speech.
"Hearing Chadwick speak was really inspiring," Maupin said. "I really appreciated hearing about his struggles in the beginning of his career; that was really inspiring for me.
Maupin added that she was proud to see a fellow Bison deliver the commencement address.
Closing out the high-energy ceremony, Boseman offered one last nugget of wisdom, urging graduates to find their purpose.
"Purpose is the essential element of you," Boseman said. "It is the reason you are on the planet at this particular time in history. Your very existence is wrapped up in the things you are here to fulfill."
Boseman continued: "Whatever you choose for a career path, remember the struggles along the way are only meant to shape you for your purpose."
This article was originally published at BlackPressUSA.com.