Wines of Bordeaux, Harlem
KYSHA HARRIS AmNewsFOOD Editor, @SCHOPgirl | 5/10/2018, 4:54 p.m.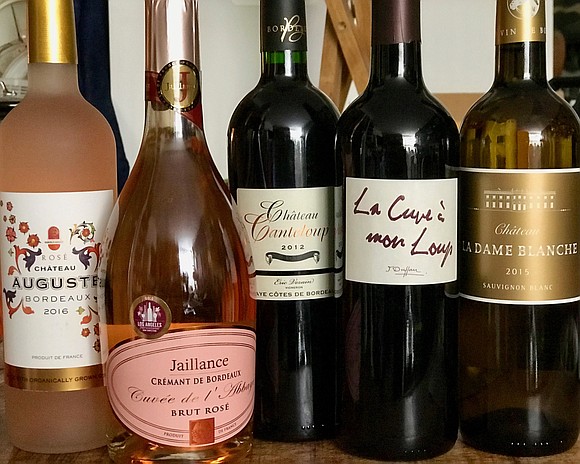 Please meet some of the wines of Bordeaux for Harlem EatUp! 2018. These wines, along with others, will be paired with menus at the Dine In series dinners and sold at Harlem wines stores (Pompette, The Winery, Vintage Harlem, BTL and more). From sparkling to white to red, a moment in Bordeaux is just a sip away.
Shown here are a smattering of the featured wines, some organic, made by women and new to the festival. From left to right:
Château Auguste 2017 Rosé
Organic and new to the festival, this light wine with great depth of flavor of berry and citrus is the perfect seasonal wine for right now.
Jaillance Cuvée de l'Abbaye Brut Rosé (Crémant de Bordeaux)
This sparkling baby will tickle your nose with the juice of Cabernet Franc and Merlot and hints of strawberry.
Château Canteloup 2012
Showcased at last year's festival, this Merlot-dominant wine is juicy and full of ripe fruit.
Château La Mothe du Barry, La Cuve à Mon Loup 2015
This organic red Merlot, made without sulfurs, was created for the maker's wife. He decided to create a special cuvee to make her love his wine!
Château La Dame Blanche 2015
This Sauvignon Blanc is hand-harvested by a winery owned by five sisters in Bordeaux.
Enjoy these wines at Harlem EatUp! or pick a couple of bottles up at your local store. À votre santé!