Knicks start all over again pinning their hopes on Dave Fizdale
Jaime C. Harris | 5/10/2018, 12:58 p.m.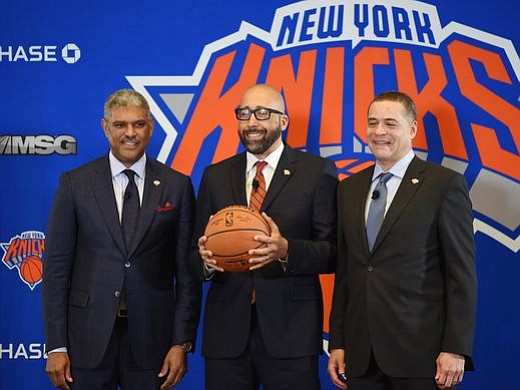 Tuesday at Madison Square Garden, David Sean Fizdale from Los Angeles, who will turn 44 next month, was introduced as the 29th head coach in the history of the New York Knicks. He is the 11th since 2001, emblematic of the franchise's instability and lack of success on the court.
Logic and deductive reasoning concludes that poor coaching hasn't been the essence of the Knicks' failures. Years and years of rosters scattered with below average players, incompatible top-tier talent and a nonalignment of clear, competent philosophies throughout the organization have been the primary causes of the franchise winning only one playoff series in the past 18 years.
The trio of team president Steve Mills, general manager Scott Perry and Fizdale hope to reverse this distressing, long-standing ineptitude. After a search that included interviewing 11 candidates, Mills and Perry determined Fizdale, a former assistant with the Miami Heat, where he helped them win two titles, and most recently the head coach of the Memphis Grizzlies for less than two seasons before being terminated, was the best person with whom to move forward.
The Knicks' decision makers were prudent and fearless in drowning out the cacophony of voices of fans and media imploring them to hire Mark Jackson or another aspirant higher on their wish lists than Fizdale. The process was rightly not a popularity contest, but a pursuit for a coach who will ideally be an effective long-term hire.
"We were committed to not letting any external factors force us to deviate from how we thought the proper way to conduct the search needed to go," explained Mills. Despite the skepticism from long suffering fans and media hell-bent on swaying the decision, Perry maintained that Fizdale met the criteria laid out by him and Mills last summer when they were installed in their current positions to rebuild the Knicks.
Perry explained, "In going through this process we were looking for someone who understood that this needs to be a sustainable effort, a daily grind type of effort in putting this team together. Someone who understands a systematic approach to building a successful basketball team."
"And then as we went through the search," expounded Perry, "and we called a number of current and former NBA players, a number of coaches and front office executives from around the league, and some common themes seemed to occur from those conversations: Tireless worker. Innovative basketball mind. Someone who connects, is excellent in connecting with people and working with people. Someone who holds people accountable. So all of those qualities led us to David sitting here today."
Fizdale isn't a miracle worker and doesn't need to be. He simply has to be a capable coach provided with very good players and perhaps at least one transformative talent.
"Obviously, the history of the Knicks…I don't take that lightly," Fizdale said. "I'm so proud about that, to come into this city, to be integrated in this organization…I really take a lot of pride in that. I will carry that. I roll up my sleeves and work really hard, tirelessly, to rebuild this culture back, to give these guys a great opportunity to feel basketball success and eventually we hold that trophy together."