Attorney General Eric Schneiderman, accused of violence, resigns
HERB BOYD Special to the AmNews, STEPHON JOHNSON Amsterdam News Staff and NAYABA ARINDE Amsterdam News Editor | 5/10/2018, midnight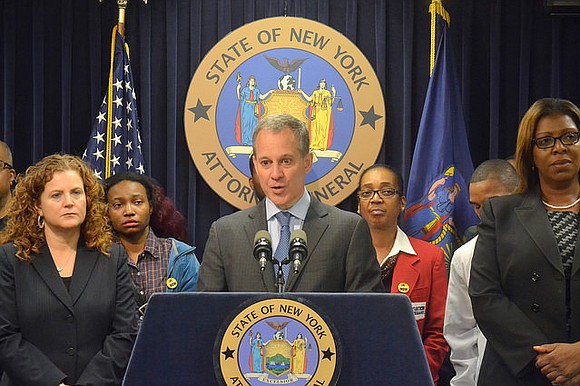 In what must be the most ironic turn in this era of sexual harassment, New York's Attorney General Eric Schneiderman, an ambitious Democrat, who praised women for speaking up against abuses, now faces charges himself. Hours after the story broke that four women had accused him of nonconsensual sexual physical violence, Schneiderman, 63, resigned from his post.
"While these allegations are unrelated to my professional conduct or the operations of the office," Schneiderman said in a statement, "they will effectively prevent me from leading the office's work at this critical time. I therefore resign my office, effective at the close of business May 8, 2018."
According to the story by Jane Mayer in The New Yorker, the women had been reluctant to speak up fearing reprisal, but two of them, Michelle Manning Barish and Tanya Selvaratnam, could no longer be silent, hoping their disclosures will protect other women. Schneiderman's abuses, the women stated, were beatings they received after drinking and frequently in bed.
Both women are in their 40s with progressive credentials and had relationships with Schneiderman over the past several years.
Three of the women have been identified. They sought medical attention after the assaults, but none reported the incidents to the police. One stated that Schneiderman had threatened to kill her, an allegation that has been denied by a representative for the former attorney general.
"In the privacy of intimate relationships," Schneiderman said, "I have engaged in role-playing and other consensual sexual activity. I have not assaulted anyone. I have never engaged in nonconsensual sex, which is a line I would not cross."
According to his accusers, he crossed this line on numerous occasions, leaving bruises and choke marks and making threats of further violence if the acts were divulged.
"I think the article was graphic and definitive in the reporting of the statements, actions, behavior and corroboration," New York State Gov. Andrew Cuomo said of The New Yorker story. "I thought it was a very powerful and damning statement of facts."
As expected, Schneiderman is receiving a barrage of criticisms from Trump surrogates and others accusing him of being a hypocrite. Schneiderman's legal actions against Trump as well as numerous lawsuits against his enterprises are widely known. And Trump has spared no counterattacks against Schneiderman.
These revelations come in the wake of an attorney general who had secured an enviable record with proponents of the #MeToo movement and feminists, including those he had allegedly had affairs with, and had launched investigations against Harvey Weinstein, who he denounced.
"We have never seen anything as despicable as what we've seen right here," he said of Weinstein. It's to be seen how the ongoing investigation of Weinstein and other cases will proceed with Schneiderman no longer in a prosecutorial role.
"I wish my name did not have to be in it," Selvaratnam told Mayer of the article. "I know it's going to be my word against his, because I don't have photos of bruises, and I don't have a police report. …What do you do if your abuser is the top law-enforcement official in the state?"