Rainbow colors flash for spring/summer '18 in Miami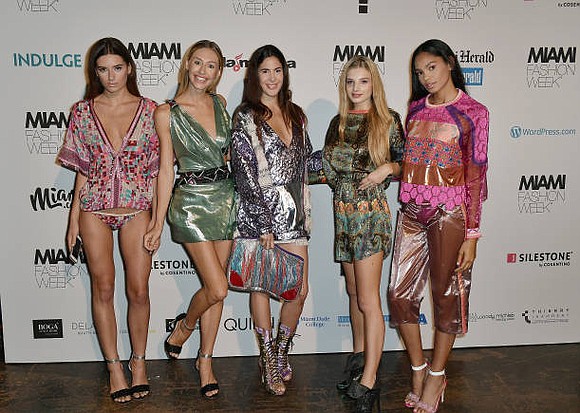 Custo Barcelona's spring/summer '18 collection splashed a rainbow of glorious colors on the Miami Fashion Week runway. The clothes were sexy, stylish and sophisticated. The co-founder of the brand, Custo Dalmau, spent his childhood in Barcelona where he studied architecture. After a few adventures around the world, his family moved to the United States with two huge suitcases full of shirts. That inspired the Spanish fashion designer to create his popular T-shirts emblazoned with original drawings featuring the firm's name.
He recalled being rejected by several New York stores in March 1996 because of the minimalist fashion look that was in vogue at the time. He did pick up some business in Los Angeles, where he and his co-founder, brother David, managed to put their clothes in four shops frequented by Hollywood celebrities. In Miami, Custo Barcelona's spring/summer sizzled on the runway.
Closing Minneapolis Fashion Week, Nourrir magazine presented a spectacular fashion show that was live streamed on Instagram at Intelligent Nutrients, a skincare and beauty salon. They featured designers Alexandra Alli; Ros Duke, a knit cashmeres and sportswear firm; and Studio Pia, an eco-friendly lingerie company.
Alli's interest in fashion began at the age of 10. She persuaded her mother to allow her to work as an assistant at her mother's fashion design studio daily after school, where she learned how to design and how to run a fashion business. When she was 13, her family moved from Nigeria to Atlanta, and she began modeling for major companies throughout the South. During her travels, she developed an interest in the beauty and fashion industries. Her talent for modeling well-crafted luxury items, especially handbags, lifted her up in the fashion business. Shown with savvy sportswear, her accessories were exceptional at this show.
Luxury lingerie from Studio Pia was well-received. Crafted in the U.K., these stunning pieces were enhanced with creative shapes in cruelty-free organic silk. Every Studio Pia garment is designed to be ultra-flattering on a range of body types. With these soft styles, the brand provided expert use of sexy yet supportive cuts, light body-shaping elements and adjustable sections that allow for a personalized fit.
Their designs are inspired by the worlds of fine art and couture. Colors were rich. Textures complimented striking shapes. The lingerie line was created with exquisite construction and craftsmanship.
After spotting a gap in the market for ethical and truly luxurious lingerie, and recognizing a demand for her to launch her own line, Pia began to develop her eponymous brand. As a lifelong veggie, she was determined to create the first lingerie brand using exclusively cruelty-free, organic, peace silk.
Her vision was to design a collection of creative, investment pieces, that challenge preconceptions about ethical fashion aesthetics, and provide the customer with timeless luxury she can feel good about wearing and showing off.
Ros Duke presented a lovely cashmere collection of wrap-blouses, skirts, shorts and long cashmere knit dresses. The show was followed by music and dancing!