Hastings honored by her alma mater
Lois Elfman | 5/3/2018, 11:41 a.m.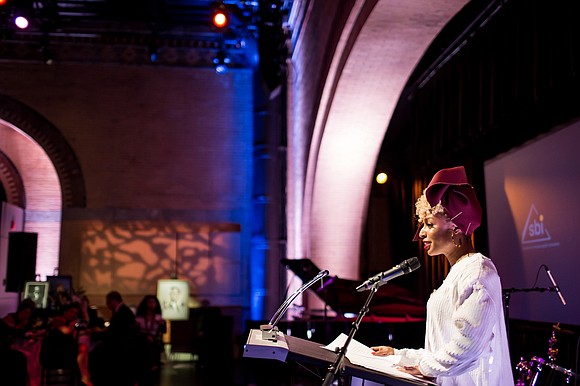 In the years since two-time Olympic gold medalist in track and field Natasha Hastings graduated from A. Philip Randolph Campus High School in Harlem, she has periodically returned to the school to interact with students. Last week, she took center stage as she was honored at a gala fundraiser for Sound Business, Inc., an inclusive grassroots cooperative that has had a 25-year affiliation with the school. SBI provides creative solutions to address the specific needs of Randolph and its diverse student population.
It was a festive event that included performances such as spoken word. Joined by her mother, Joanne, other family members and a couple of friends, Hastings said she was a bit nervous, but she soaked in the experience.
"Sometimes I get so caught up in my day-to-day and what it is that I'm doing, I don't really reflect," said Hastings, known as the 400-meter diva. "I look up sometimes and see, 'I have done such and such.' To have that reminder was humbling."
Hastings recently launched the Natasha Hastings Foundation, which has the mission to empower, inspire and uplift youth through sport in America and other countries. She wants to help build self-esteem, particularly for girls in urban communities. There is the goal to build her Tea Time with Tasha events nationally and globally. The foundation is also developing a scholarship fund to help foster opportunities in track and field for at-risk and underprivileged girls.
"I want to be able to give back," said Hastings, who is planning an inaugural Tea Time fundraising gala to take place in New York this September. "Also, wanting to let girls know what is out there."
She added, "It's a lot of work, but I feel I'm doing what I'm supposed to be doing. I want to grow [Tea Time] to be a bigger conversation and create awareness."
Earlier this year, Hastings got to take Tea Time to South Africa, meeting with girls ages 12 to 18 to discuss sports, life and how to handle the challenges girls face. She hosted a run in Cape Town. She then went to Zambia, visiting schools being built by the 14 Plus Foundation.
Currently on the mend after a treatment on her sore knee a couple of weeks ago, Hastings, 31, hopes to be on the track soon and compete this outdoor season.