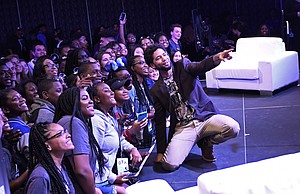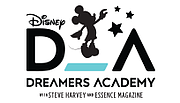 ORLANDO, Fla. - Teens learned about the value of self-image along with showcasing what they've learned on the third day of the Disney Dreamers Academy with Steve Harvey and ESSENCE magazine at Walt Disney World on Saturday.
The theme for the day was "Dream it. Do it." focusing on how the work they need to do to make their dreams come true
Dreamers were taught about how to present themselves and making a good impression. Boys and girls were split up into separate groups with Steve Harvey's daughters, Brandi and Carli, working with the girls and speaker and image authority Dr. Alex Ellis with working with the boys.
Students also got a chance to hear more inspiring words from those who have been there before them. Renowned educator Dr. Steve Perry, founder and principal of Capital Preparatory Magnet School in Hartford, Conn., showed the Dreamers how to apply the skills they're learning at the Academy in the real world.
During the day Dreamers also heard from Essence Magazine's Mikki Taylor and Sonia Jackson Myles, founder and author of The Sister Accord.
While spending some free time at EPCOT theme park, the students also toured the Kinsey Collection, an exhibit featuring artifacts throughout African American history curated by philanthropists and collectors Bernard and Shirley Kinsey. After a five years at Disney World, the exhibit is closing this month.
Later in the day, Dreamers attended a panel discussion with several celebrities. Among those who spoke were Singer Ne-Yo, Jussie Smollett, star of Fox's prime-time drama Empire, teen stars Miles Brown and Marsai Martin of ABC's Black-ish, Black Panther costume designer Ruth Carter, The McClain Sisters and former NFL player and businessman Emmett Smith.
Smollett said that the Dreamers are an example of what many teens are doing in the nation to change things to ensure a better future for everyone.
"What we're seeing is young people are coming up in a way we have not seen in a very long time and it does feel like the beginning of a renaissance," he said. "Nobody wants to be the one sitting at the table by themselves. This is what the world is and we have to turn the volume up on these Dreamers."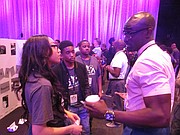 In the evening the teens showcased what they learned during their "Deep Dive" sessions on Friday at the "Dreamer Career Open Mouse" exhibit. Dreamers gathered at various stations to explain their career paths and how they plan to make their dreams reality. They also got the chance to network with professionals in their field from the Walt Disney Company.
The Dreamers Academy comes to a close on Sunday with a commencement ceremony. The students will reflect on what they've learned over the weekend before bidding one final farewell and going home