Knicks look to the future as veterans accept new roles
JAIME C. HARRIS | 3/2/2018, 2:56 p.m.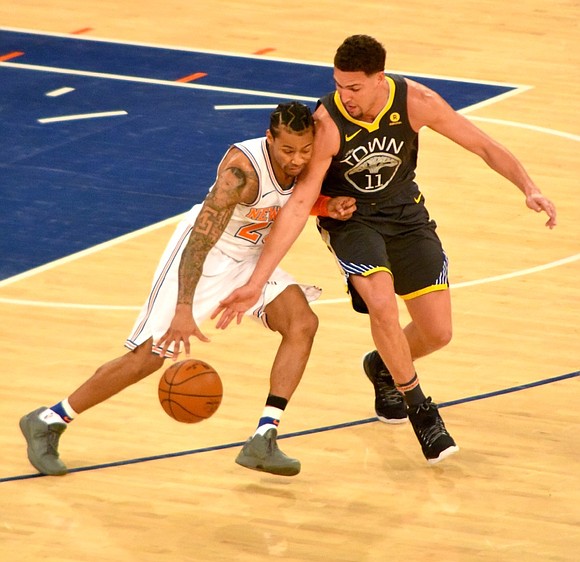 The 24-38 Knicks have only 20 games remaining in a season that has been absent tangible progress resulting from a number of seen and unforeseen factors. It was expected their 19-year-old rookie point guard Frank Ntilikina would experience baptism by fire trying to master the most difficult position in basketball.
No one factored 22-year-old forward Kristaps Porzingis sustaining a torn ACL, which occurred Feb. 6 at Madison Square Garden. Porzingis had been named to his first All-Star team before the injury and is now facing 10 to 12 months of recovery.
Although center Enes Kanter, acquired from the Oklahoma City Thunder in the Carmelo Anthony trade, has been a pleasant surprise, averaging 14.2 points and a team-leading 10.7 rebounds, ninth in the NBA before the start of last night's (Wednesday) NBA schedule, Tim Hardaway Jr. has been unable to establish consistently positive play, as injuries and the burden of justifying a four-year, $71 million contract signed last July has discernibly affected his performance.
So as their season winds down, the Knicks, who have lost 10 of their past 11 games and begin an eight-day, four-game road trip tomorrow against the Los Angeles Clippers, have taken the most prudent course of action by first and foremost focusing on cultivating their group of young guards and secondly assessing the potential viability of inexperienced forward, notably 23-year-old Troy Williams, who they signed to a 10-day contract Feb. 21 after he was waived by the Houston Rockets.
Emmanuel Mudiay, 21, obtained from the Denver Nuggets in a trade Feb. 8, Trey Burke, 25, a 2013 lottery pick by the Utah Jazz and college teammate of Hardaway at the University of Michigan, and Ntilikina are consuming almost all of the Knicks' backcourt minutes, with rookie shooting-guard Damyean Dotson, 23, being accorded approximately seven minutes per game.
Although Mudiay, who has been installed by Knicks head coach Jeff Hornacek as the starting point-guard, and Burke have played most of their time at the point, Ntilikina is operating at both the point and the two-guard spots. Yet all three have been interchangeable.
The consequence is 33-year-old Jarrett Jack, who took over as the Knicks' starting point-guard four games into this season before being replaced by Mudiay Thursday against the Orlando Magic, and 32-year-old first unit shooting-guard Courtney Lee have had their time dramatically reduced.
Jack hasn't played in the last three games and Lee has had his time on the court cut from an average of 33 minutes in the Knicks' first 59 games to 14 per game over the previous three.
After losing to the Boston Celtics 121-112 this past Saturday at the Garden, Hornacek was asked if growing the young bunch or chasing wins is the Knicks' priority. "I think at this point, it's probably the young players developing," Hornacek said. "You're not mathematically out of any playoff race, but realistically, what are we, seven, eight games behind? So that's probably not going to happen."
The veteran Jack has taken a pragmatic approach to his circumstances. "Obviously I would like to be on the court," he said in the Knicks' locker room Monday, after their 125-111 defeat to the Golden State Warriors.
"It's [Hornacek's] decision. All you can do is sit there, be a professional, cheer them on, help them while you're not in the game. And if they decide to call you in, still be ready."