Up2Us Sports celebrates the impact of coaches
Lois Elfman | 6/28/2018, midnight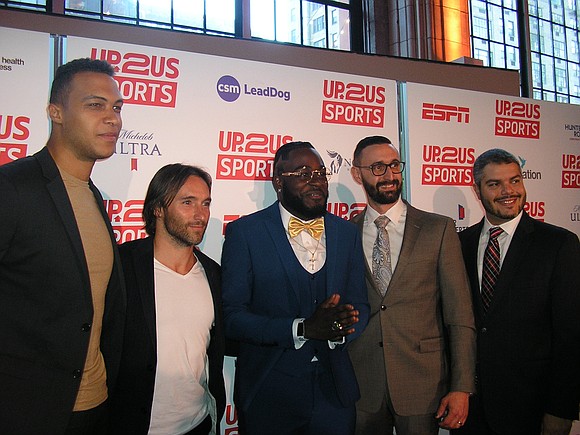 After receiving training from Up2Us Sports, Tayquan Faulkner returned to his alma mater, Curtis High School in Staten Island, where he not only coaches football, but also inspires the students to be positive forces in the community. June 14, Faulkner received the Coach of the Year Award for his tireless hard work and unwavering commitment to developing young people's self-esteem and focus.
"The journey back to my high school has been great," said Faulkner, whose long-term goal is to become a trainer and one day own his own gym. "Being part of the culture since I was young and being able to come back and coach in the same atmosphere and show the kids the ropes, it's a great feeling. I want nothing but the best for them."
Faulkner was touched to have his work recognized. Up2Us Sports training has enabled him to use coaching as a platform for helping the athletes become the best they can be.
"He's a good motivation for everybody," said Joey Glenn, one of Faulkner's players at Curtis.
Founded in 2010 by Paul Caccamo, Up2Us Sports is a national nonprofit dedicated to inspiring youth through coaching and sports. Among the personalities on hand at the gala were comedian/actress Sandra Bernhard, three-time Olympic fencer Sharon Monplaisir and New York Liberty guard Sugar Rodgers. The event raised more than $400,000 to support the training of coaches in sports-based youth development.
"Kids need skills mentors, someone to turn to when they're facing problems," said Caccamo. "I thought, why don't we have a Teach for America for sports? Why aren't we hiring young people who have played sports and want to give back to their own neighborhoods to be coaches and train them to use that leadership role to really inspire kids to make better decisions at home, in school and in the community? So, I started the program. We've placed 2,000 coaches in 500 urban communities, and we're growing."
"Sports transformed my life," said Monplaisir. "I don't know where I'd be today without it. It's great to see this organization give so many young people an opportunity."
"I came up on basketball. It was a way for me to survive," said Rodgers. "It's our duty to serve others."
Other honorees included Kathy Carter, founding member of MLS and former president of Soccer United Marketing, and Ahmad Nassar, president of NFL Players Inc., both of whom received the Legacy Award.