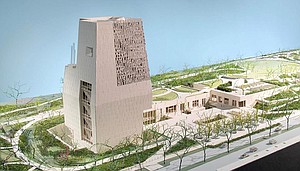 Days before the Chicago Plan Commission approved plans for the Obama Presidential Center, a federal lawsuit was filed to block the proposed $500 million facility that will be built in Jackson Park.
The 500-acre park is located in Chicago's predominately Black Woodlawn and South Shore neighborhoods, where former First Lady Michelle Obama, rapper Kanye West and some of the nation's most prominent Blacks once lived. On Thursday, May 17, the Chicago Plan Commission unanimously approved the blueprints for the Obama Presidential Center, despite emotional appeals from protestors who are concerned that the library will eventually drive up rents in the neighborhoods and force out longtime, low-income residents. The plans now go before the city's 50-member city council. While those plans are expected to pass that stage, the Obama Foundation faces a lawsuit that may be its biggest hurdle yet.
The lawsuit was filed on Monday, May 14 by "Protect Our Parks," a nonprofit organization that seeks a court order to "bar the Park District and the City from approving the building of the Presidential Center and from conveying any interest in or control of the Jackson Park site to the Foundation."
In its complaint, Protect Our Parks accuses the Chicago Park District of an "institutional bait and switch." The organization said the park district transferred public land to the Obama Foundation to house an official federal Obama Federal Library. But that purpose changed when Obama decided his center will not be his official library. Instead, the federal National Records and Archives Administration will run it in another location. In the lawsuit, Protect Our Parks called Chicago's plan to lease public park space an "illegal land grab."
The organization also said the transfer of park land to a non-governmental private entity violates the park district code. In addition, Protect Our Parks said the park district and the city will receive only token rent for the land and the Park District Act law "does not authorize the Park District itself to transfer valuable public trust land for virtually no compensatory return."
Protect Our Parks says that city officials are "prohibited by law" from turning over public park land to a non-governmental private entity for private use.
At a meeting Thursday, May 17, the commission was expected to take up a resolution authorizing a long-term ground lease for 19.3 acres in Jackson Park from the city to the Obama Foundation. In March 2015, Chicago's city council approved an ordinance for Chicago Park District land in Jackson Park to be transferred to the city of Chicago to lease to the Obama Foundation.
Protect Our Parks' lawsuit may force planning officials to rewrite the ordinance.
Protect Our Parks is being represented by Roth Fioretti; Robert Fioretti is a former Chicago alderman who challenged Mayor Rahm Emanuel in 2015 before endorsing Emanuel in the run-off. More recently, Fioretti was defeated in a March Democratic primary bid for Cook County Board president.
In an emailed statement, Emanuel's mayoral spokesman Grant Klinzman said, "The Obama Presidential Center is a once-in-a-lifetime opportunity to invest hundreds of millions of dollars that will create good jobs on the South Side, bring our communities together and honor the legacy of Chicago's favorite son and daughter. While some choose to stand in the way of progress for the South Side, we are focused on making progress in every community in Chicago."