A word with Jeffrey Wright
LAPACAZO SANDOVAL and ART SHRIAN Special to the AmNews | 6/7/2018, midnight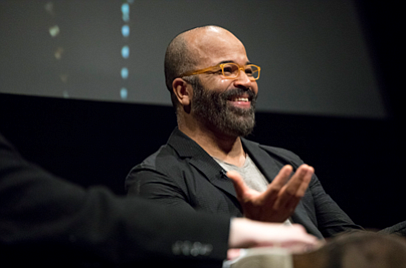 Call us crazy if you must, but there is something almost magical that happens when actor Jeffrey Wright just walks into a room. At first it feels like a small vibration suggesting—perhaps—somewhere under your feet the plates of the Earth are moving ever so slightly. Then it's forgotten until you begin to sense a pulsating energy that continues to grow brighter when he takes a seat and starts to address an assembled and captive audience, and that's just part of the thrill that we experienced in covering the Second Annual Split Screens TV Festival, which took place last week in New York's IFC Center. In full command and conducting the Q&A with Wright was the festival creator, Matt Zoller Seitz, who turned the first set of questions toward Wright, who opened up about the character that he plays in "Westworld" (HBO). Naturally because of the nature of the show, he could not share much about the new season, except that it's deeper, significantly more complex and wonderfully mathematical, still, and that he, himself, is often baffled about his character.
If you've never had an opportunity to watch the actor speak, you've missed a performance in a sense. He's articulate with a perfectly modulated voice and on that stage, Wright's body language was speaking long after his words stopped tumbling forth. He hit the notes one might expect, which included his feelings on hearing about David Bowie's death, racism—sharing, "Even after winning Tony Awards for 'Angels in America', I could not find an agent"—and how he knew that growing up in Washington, D.C. and passing the White House every day on his way to school was preparing him to step into the role of the late slain civil rights leader Martin Luther King Jr. in HBO's "Boycott." He said, "All my life, since I was a young boy, I'd been mesmerized by him. By his words."
Vulnerability is always a refreshing quality to find in an artist, particularly one who is so deeply respected. So when Wright opened up about the passing of David Bowie, his co-star in "Basquiat," sharing, "I cried like a small child when he died," in remembering my own feeling on losing Bowie, I did the same thing. The sense that his pain was still fresh was, in a word, touching.
When speaking about his no-holds-barred Twitter presence, Wright said, "There is dangerous messaging infiltrating our airwaves. We need to confront it and call it what it is. I think it is urgent that we do that. ... Ignorant racist nonsense invigorates me. I just want to punch it in the face. I can't wait."
The festival continued with a sneak peek at "Snowfall," the epic crime drama (FX) with co-creator/showrunner/executive producer/writer Dave Andron, consulting producer/writer Walter Mosley and star "Franklin Saint" Damson Idris. "Snowfall" is a show that tells the truth about drugs in this country, using Los Angeles to dig deep into the show. "Snowfall" is a politically charged story about the 1980s crack cocaine epidemic's destabilizing effect on Southern California. Created by John Singleton ("Boyz n the Hood"), Eric Amadio ("Shadows & Lies") and Dave Andron ("Justified"), "Snowfall" paints a fuller view of Los Angeles and shows how the national security state, local law enforcement and the daily hustle of street criminals intersect in the nexus of the drug trade. The latest addition to the show's prolific bench of screenwriters is Walter Mosley, author of the acclaimed "Easy Rawlins" novels and one of America's greatest crime fiction writers.
On the last day of the Second Annual Split Screens TV Festival, the Vanguard Award was given to actress Sandra Oh ("Killing Eve"). The award was to celebrate the art and craft of TV, and the second year of the Annual Split Screens TV Festival accomplished just that.