'Little Rock' enlightens at Sheen Center for Thought and Culture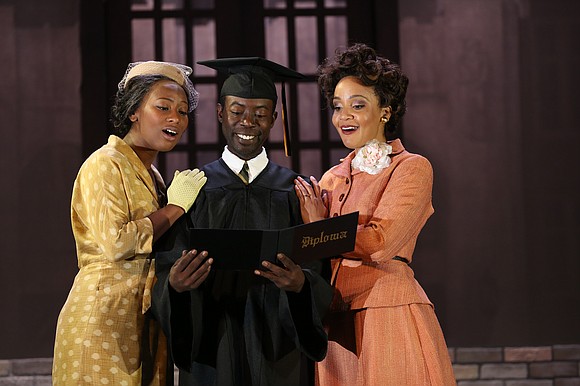 Since childhood, I heard bits and pieces of the story of the Little Rock Nine. The nine Black students who integrated Little Rock High School in Arkansas in 1957-1958 and were part of the Civil Rights Movement. But now I feel so enlightened, as Rajendra Ramoon Maharaj took 13 years of his life to research and interview actual members of the Little Rock Nine and create a production to intimately tell their story. That production is "Little Rock," currently playing at the Sheen Center for Thought and Culture, located at 18 Bleeker St. You get to see the horrific racism that these students faced every day during their first year at Little Rock High School.
There is something very moving about seeing young people who were only trying to go to school and get an education but had to face being literally pushed and beaten, called "monkeys" and having themselves and their families threatened. It was these children against Arkansas, as they were not only met with racism in school but had attacks occur on their families while doing something as simple as having a family drive in the car or answering the home telephone.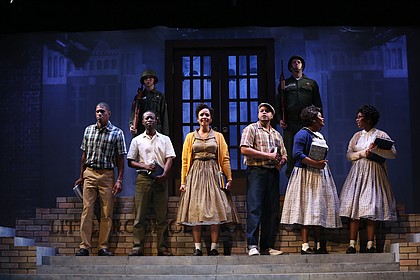 The names of the Little Rock Nine are Melba Pattilla Beals, Minniejean Brown, Elizabeth Eckford, Ernest Green, Thelma Mothershed, Terrence Roberts, Jefferson Thomas, Gloria Ray Karlmark and Carlotta Walls LaNier. The hatred, bigotry and ignorance of the white students and some of the faculty were painful to watch. But it makes you realize, if you feel uncomfortable watching it, how much harder it would have been to be the victim of it. When the students are faced with the ugliness of racism, Maharaj softens the blow, by having the youth sing inspiring songs such as "We Shall Overcome."
The story also shows how Dr. Martin Luther King Jr. and Jackie Robinson came into contact with members of the Little Rock Nine and gave them encouragement.
One of the very engaging scenes in the play is when a white National Guardsman sent to protect the Black students and accompany them to transportation when they are leaving the school told Thelma that she is a soldier. He let her know that each of them is a soldier, because it takes bravery to show up for school every day, knowing what they are walking into.
This play with beautiful, inspiring singing performances by the cast will enrich your life and help you to understand that no matter how hard things are, we as Black people can and will get through it. This play is especially timely with the way that this country has gone back to being blatantly racist under President Donald Trump.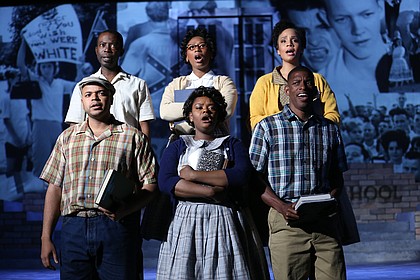 When you go to see "Little Rock," it will demonstrate a testament to the strength of the human spirit. It will demonstrate that deep down, those who have common decency, caring and understanding for their fellow man, through nonviolent means, can still make a difference. These nine students were heroes in their day, although they might not have realized it. But anyone hearing about their story today should realize it.
This play with singing will leave you saying, "We can get through anything!" This cast is absolutely wonderful and consists of Rebekah Brockman, Justin Cunningham, Peter O'Connor, Ashley Robinson, Damian Jermaine Thompson, Stephanie Umoh, Anita Welch, Shanice Williams and, at the performance I attended, Michael Gene Jacobs. There is a delightful flow to the script and delivery, which is not surprising because Maharaj is also the director. It is so imperative that stories such as "Little Rock" are presented to a new generation of young people to show the power that anyone can have to overcome adversity. It also shows how young people can contribute to the world and history. For tickets, visit Littlerockplay.com. In the playbill there is more information. A timeline for the Little Rock incidents appears in the back. Take a look.