Film Society of Lincoln Center hosts New York Asian Film Fest
Lapacazo Sandoval and Art Shrian | 7/5/2018, 11:56 a.m.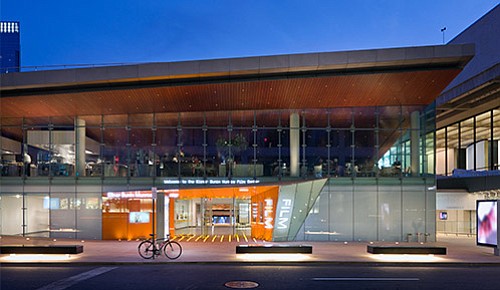 The Film Society of Lincoln Center does diversity like no other. Their creative team takes inclusion seriously and to that end they work smart, and hard, to bring the best storytellers from around the world to screen their films in unusual and carefully curated chunks, starting with the New York Asian Film Festival June 29.
To keep it interesting they have included a retrospective on the classic musicals of Fred Astaire and Ginger Rogers; a two-week series focusing on the extraordinary work of female cinematographers from around the world; a survey on works filmed on the mythic Pixelvision camera; and a tribute to Germaine Dulac, a pioneering figure of French avant-garde cinema. In addition, the Film Society will present its annual festivals New York Asian Film Festival, Dance on Camera and Scary Movies.
New York Asian Film Festival, June 29-July 12
The 17th edition of the New York Asian Film Festival is New York's most exhaustive selection of titles from China, Hong Kong, Japan, South Korea, Taiwan and other countries across Southeast Asia. Programmed and operated by Subway Cinema, NYAFF features contemporary premieres and classic titles, plus a host of in-person appearances and Q&As with up-and-coming and established stars and auteurs.
Fred and Ginger, July 13-15
Fred Astaire and Ginger Rogers are a part of cinema history. Over nine years, they made 10 movies together, immortalized as icons for their dazzlingly fleet-footed choreography and their singularly charming onscreen chemistry. Eighty-five years after their first collaboration, the Film Society is delighted to present a three-day complete retrospective of their shared oeuvre, organized by Lesli Klainberg and Maddie Whittle.
Dance on Camera Festival, July 20-24
The venerable and vibrant Dance on Camera Festival celebrates its 46th edition—for the first time in the summer—with a wide-ranging selection of 16 programs over five days. A treat for dance lovers of all stripes, the festival offers everything from tap to classical ballet to mime, in films from 17 countries, including documentaries that illuminate the artistry of both legendary choreographers (Jerome Robbins, Merce Cunningham) and current masters (Lucinda Childs, Trey McIntyre), and shorts programs that express the diversity of contemporary dance filmmaking. And for the pièce de résistance: Spike Jonze has curated a program of his own shorts especially for this festival, some featuring never-before-seen footage.
The Female Gaze, July 26-Aug. 9
This year, "Mudbound" DP Rachel Morrison made history as the first woman nominated for the Best Cinematography Oscar, a triumph that also underscored the troubling issue of gender inequality in the film industry. Few jobs on a movie set have been as historically closed to women as that of cinematographer—the persistence of the term "cameraman" says it all. Despite this lack of representation, trailblazing women have left their mark on the field through extraordinary artistry and profound vision.
Flat is Beautiful: The Strange Case of Pixelvision, Aug. 10-16
"Picture what your kids can do with the new PXL-2000." So went the 1987 advertising campaign for Fisher-Price's latest offering, a lightweight plastic camcorder conceived specifically for children. Invented by James Wickstead, the device allowed for 11 minutes of footage recorded directly onto a standard audio cassette. Sales proved disappointing; Pixelvision would soon be abandoned by its parent company, and production on new cameras halted after a year. Yet the story of the PXL-2000 was just beginning.