The David Dinkins Tennis Club prepares for another summer season
Vincent Davis | 7/5/2018, 11:04 a.m.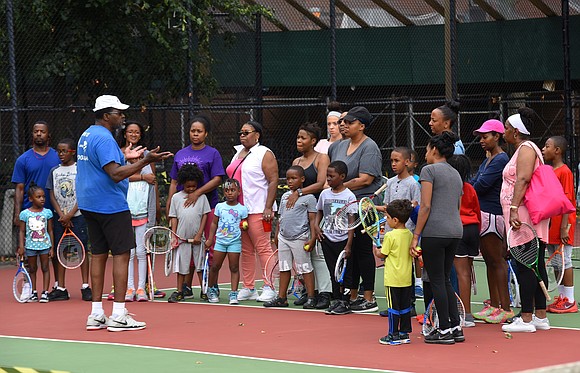 Basketball, football, baseball and soccer are all very popular sports, but tennis is popular here, too. The U.S. Open will begin in Flushing Meadows, Queens at the end of August. Thousands upon thousands attend.
The David Dinkins Tennis Club not only provides free tennis lessons for young children and their parents interested in learning the game during the summer but also provides reading clinics and a fun, friendly, family environment.
The annual program, named after the Hon. David Dinkins, the former mayor of New York City, begins this Saturday at the Fred Johnson Park at Seventh Avenue and West 150th Street in Harlem. It begins at 11 a.m. All are welcomed. 
The courts are affectionately known as "the Jungle." It's where tennis greats Althea Gibson, Arthur Ashe and James Blake once played. The program runs until Aug. 18. Equipment is provided free for those who need it. You should wear sneakers. To take advantage of all that this wonderful program offers, it's important to get there early.
"We ask that the parents also participate," said Sam Penceal, the program's co-founder. "It helps them better understand how to assist their kids when they're working with them on their own, after our program. It also helps the kids sometimes when they see that their parents make mistakes, too. That encourages the young athlete." 
The volunteers who assist Penceal, like him, have extensive experience as teachers, school administrators and professional tennis coaches. They welcome book donations, and the mayor usually celebrates his birthday there, Saturday, July 21. The first annual Bernie's Memorial Brunch will be held Saturday, July 28, in honor of Penceal's wife, who helped start the program eight years ago.