Is a Blacks versus Latino fight deliberately being created by Trump policies?
KYANA HARRIS Special to the AmNews, Additional reporting by NAYABA ARINDE Amsterdam News Editor | 7/5/2018, 10:37 a.m.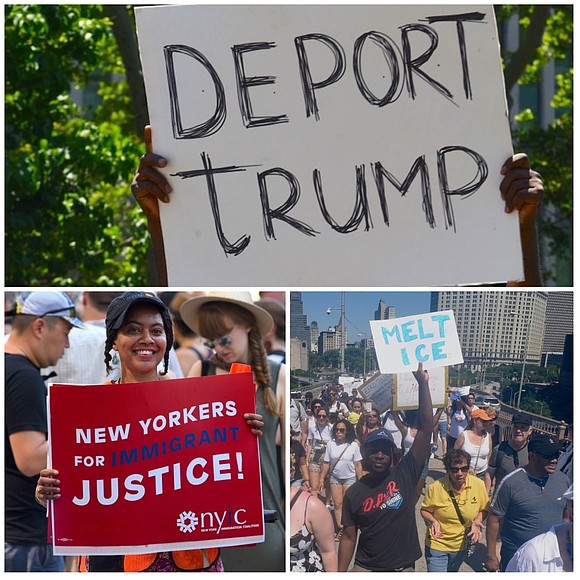 Several students from Howard University shared their stance on the immigration crisis with the Amsterdam News. Emanuel Okusanya said, "I agree that what's happening is tragic, but a part of me doesn't feel like it's our fight. Blacks have always helped other communities during their struggle, only to be left in the dirt time and time again. Like I can stand up for y'all, but I'm not gonna be on the front lines, because it wouldn't be reciprocated."
Others pointed out the fact that in history Blacks and Latinos have banded together against white privilege.
Adebosola Karunwi said, "It was countries like Cuba that supported people like Assata Shakur during the height of Black Liberation struggle in the U.S., so they have been there to support us, and they still are."
Brittany Ohalete noted that a protracted hostile discussion leaves no opportunity for intersection. She asked about the immigrants who are of African descent and the Afro-Latinx community. "Do they have to pick a side, or simply stay out of the fight?" she asked. "I feel like as people in general, we shouldn't always think like 'I'll help you, if you help me.'"
She added, "We'd be better off as a society if we just stood up for each other, regardless of the situation."
Latinx immigrants aren't the only growing population. Pew Research Center data findings stated African immigrants are also on the rise. The Research Center's Monique Anderson reported, "Their overall numbers are growing—roughly doubling every decade since 1970."
Certain academics and activists state that some people who don't support the Latinx immigrants might see them as a threat to their job opportunities. A 2016 Wharton School of Business study found that there is limited evidence that shows immigration negatively affects wage growth. The evidence found that immigration actually leads to more innovation and higher overall economic productivity.
"I think the Oppression Olympics is extremely problematic and is a tactic white people in power use to divide the oppressed and take their eyes off the bigger issue, which is we're all oppressed as people of color, particularly Blacks and Latinx," said Jermaine Johnson Jr.
Even though Blacks and Latinx are the largest nonwhite population in the U.S., they also have a combined rate of 41.4 percent of the low-income population. Black and Latinx students have a gap of achievement as high as 1.5 in some states. In 2016, the Pew Research Center reported the median wealth of white households was $171,000. That's 10 times the wealth of Black households, and eight times that of Hispanic households.
"Until we fully comprehend that injustice anywhere is an injustice to the whole of humanity, I don't see how we can move forward," said Adebosola Karunwi.
As State Sen. James Sanders promotes his Aug. 25 Caribbean Carnival in the Rockaways, noted that while some cultural entertainment and fun was going to be held, a serious topic will also arise. "We will be particularly highlighting the contributions of the Caribbean community in America," he said. "At a time when President Trump is promoting his zero tolerance policy on immigration and literally tearing families apart, we are here to bring people together. We have people of different cultural backgrounds celebrating as one. We do not want to shut people out. We want to embrace the world."