Is a Blacks versus Latino fight deliberately being created by Trump policies?
KYANA HARRIS Special to the AmNews, Additional reporting by NAYABA ARINDE Amsterdam News Editor | 7/5/2018, 10:37 a.m.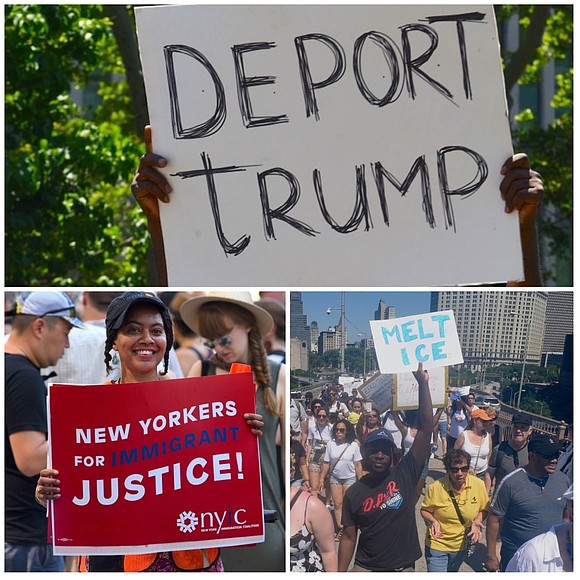 "The Oppression Olympics is a conversation being generated now as the current president is engaged in his divisive immigration policy, so you have Black, Latino and even Asian activists debating who has suffered the greatest under European dominance," said Divine Allah, youth minister from the New Black Panther Party. "Africans within the Diaspora would argue that no people have suffered and fought more. But the whole conversation is like apples and oranges. We have not stopped fighting against our own oppression just because we are highlighting somebody else's from the same source."
The Trump administration's policy of initially dividing families as they crossed the border in Texas, separating children as young as 9 months from their parents and bringing them as north as New York, created a firestorm. Activist and politicians demanded that President Donald Trump stop the policy, and under much public scrutiny, he did so last month, choosing to hold entire families in facilities instead of separating them. The firestorm has not died down, however. An offshoot discussion arose regarding the focus on these particular immigrants versus others. The deportation of Caribbeans and Africans was raised as a topic, and even the original focus on enslavement.
Although a number of immigration activists are arguing that we're all immigrants, African-Americans do not consider forced migration as parallel to choosing to come to America.
"The Oppression Olympics divide people into dozens of categories, resulting from the intersection of divisions by gender, ethnicity and sexuality, thus fracturing society along multiple fault lines," said TaraElla, singer-songwriter and author in a Medium article. Social observers say that this idea of competing to be the most oppressed group in America can be considered as a reaction to white privilege. Nonwhite or white-passing groups are vying for the top spot. But what does winning the Oppression Olympics really do for a group?
According to 2017 U.S. Census records, the Latinx community makes up 18.1 percent of the U.S. population, whereas Blacks make up 13.4 percent. Currently on social media, there is ongoing discussion pitting the two largest nonwhite groups against each other in a battle over immigration, or as one observer noted, "exportation and importation. This discussion about who has to fight the hardest for their humanity deviates from the current immigration crisis. It forces people to these questions: "Who has the least privilege? Who is the most oppressed by our society, which is dominated by whites in power?" As the battle ensues, there is no clear goal in sight.
A number of immigration activists are arguing, "We're all immigrants." Others note that Africans were brought to these shores en masse through enslavement, not by choice.
In a 2009 article, Robert Suro wrote, "There are profound differences in the ways that Latinos and African-Americans have arrived at the state of 'otherness' in American society."
Today, immigrant families, specifically those of Latin descent are being split apart by immigration legislation. Children of immigrants are being placed foster care or put up for adoption after their parents are deported from the U.S. Approximately 5.1 million children under age 18 lived with an unauthorized immigrant parent during the 2009-13, representing 7 percent of the U.S. child population. It is important to note that approximately 79 percent (4.1 million) of these children were U.S. citizens.