Black women lead U.S. contingent at Wimbledon
Jaime C. Harris | 7/5/2018, 11:41 a.m.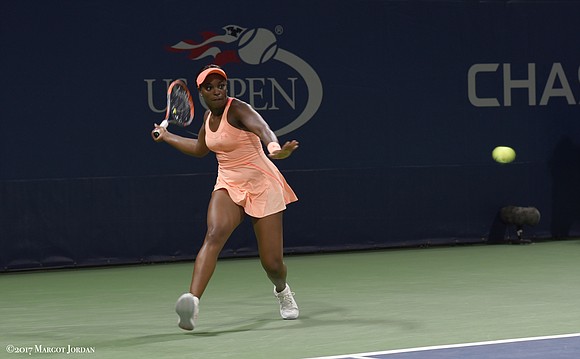 Wimbledon, the oldest and most prestigious tennis tournament in the world, began this past Monday with three Black women from the United States seeded in the top 10. Atypically, Serena Williams, perhaps the greatest player of all-time, male or female, is not among them.
Unseeded coming into the French Open in late May because of a 16-month layoff—her previous major was the Australian Open in January 2017—resulting from pregnancy and subsequent maternity leave, the 36-year-old Williams entered Wimbledon seeded No. 25.
Sloane Stephens and Madison Keys, two women inspired by Williams during their adolescent and teenage years, seemed poised to make deep runs into the tournament. However, Stephens, the highest seeded American woman at No. 4, was upset in the opening round by 55th ranked Donna Vekic of Croatia 6-1, 6-3.
Stephens, the 25-year-old reigning U.S. Open champion, couldn't overcome a series of unforced errors and barely resembled the player who made it to the French Open finals last month.
Twenty-three-year-old Madison Keys, who was defeated by Stephens in last year's U.S. Open finals, came into Wimbledon seeded No. 10 and striving for her first major win after making the semifinals of the Australian Open in 2015 and French Open this year. She took a positive first step in ousting Alja Tomljanovic 6-4, 6-2 in the opening round.
One spot ahead of Keys at No. 9 is Serena's big sister, Venus. At 38, the amazing Venus Williams, who has five Wimbledon singles titles on her resume, made it to the finals a year ago in William's absence, falling to Gabrine Muguruza 7-5, 6-0.
With Simona Halep, Caroline Wozniacki (No. 2) and Muguruza (No. 3) at the top of the draw, it will be much more difficult for Venus Williams this time around to be one of the last two women standing. Nevertheless, she commenced her journey with a 6-7 (3), 6-2, 6-1 victory over Johanna Larsson.
As for Serena Williams, who also won on Monday by 7-5, 6-3 over Arantxa Rus, she continues to reference her tennis mortality after giving birth to a baby girl last August. "We've got to have more. I don't know if I want to play if I have another baby," she recently said in an interview with InStyle magazine.
"If I weren't working, I'd already be pregnant," she added. "I hear everyone's different, but I had a really easy pregnancy until the birth. Not even birth—after."
Baby No. 2 might come soon. Yet, for now, she will remain intent on winning her 24th Grand Slam singles title, which will tie her with Magaret Court for the most in the history of the sport.