Jets extend the contracts of Maccagnan and Bowles to 2020 
1/5/2018, 2:07 p.m.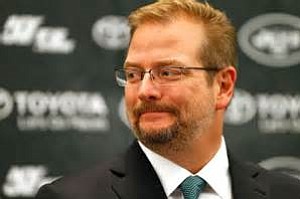 "We are very happy to extend both Mike and Todd," said Christopher Johnson, the CEO of the New York Jets Friday in a prepared statement issued after extending the contract of both his general manager Mike Maccagnan and his head coach Todd Bowles through the 2020 season. 
"I'm happy," said Bowles after the announcement. "I love coaching. I'm happy every day I wake up and come to work." 
Maccagnan and Bowles have just completed their third season with the Jets. Bowles has compiled a 20-27 record while here. His team compiled a 10-6 record during his first season and has gone 5-11 the next two, but Bowles and his GM have had to work magic during their time here, mainly at the quarterback position.
The Jets, who were credited with overachieving this season, have actually overachieved the past three seasons, under both Maccagnan and Bowles because of not having a franchise quarterback. Maccagnan has been able to choose veterans to hold down the position thus far, Ryan Fitzpatrick and Josh McCown, but wasn't able to find success with Geno Smith, from the previous administration and now with the New York Giants, and hasn't been able to find success with Bryce Petty or Christian Hackenberg as their QB. Bowles is credited for providing leadership to this team and helping to provide a key factor—stability.
Under Maccagnan, the Jets have drafted and developed several key players: Leonard Williams, Darron Lee, Robby Anderson. Their roster has also been bolstered by key trades for Demario Davis and Jermaine Kearse in the offseason, key contributors this season. 
"During their time here, they have worked together to help the organization build a foundation on which to grow," continued Johnson. "They are identifying, developing and getting productivity out of our players. I believe we are headed in the right direction. This provides us continuity and stability as we continue to move this team toward sustained success."
Johnson noted that there's still a lot of work to do, and that they're up for the challenge. "I am excited to work closely with both of them as we move forward," he said.
Since the conclusion of the Oakland Raiders-Los Angeles Chargers game Sunday night, four NFL head coaches have been fired. First and foremost is Jack Del Rio, the Raiders now former head coach, fired immediately after the game. The Chicago Bears fired John Fox, Detroit fired Jim Caldwell and Indianapolis fired Chuck Pagono. Bruce Asians of the Arizona Cardinals retired.
The New York Giants firing Ben McAdoo in the beginning of December started it all. They also fired their general manager Jerry Reese. Reese was the second GM fired this season, right after Sashi Brown in that position with the Cleveland Browns. Ted Thompson, now the former GM of the Green Bay Packers, transitioned this week to senior adviser to football operations.