Fall/winter '18 fashion: What works for office and evening
RENEE MINUS WHITE | 2/22/2018, 10:43 a.m.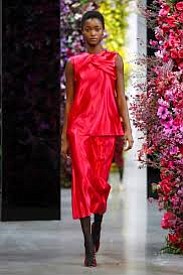 Ever since designer Jason Wu created that beautiful, one-shoulder white inaugural gown for former First Lady Michelle Obama (and other sophisticated clothes for her), he has been on the fashion radar. For fall/winter 2018, his collection featuring several stylish fashions wowed the New York Fashion Week audience. Based in New York City, Wu is a leading global design talent.
His timeless classics signal a glamorous sensibility and a distinctively feminine aesthetic. Although he is only 34, the precocious designer has already dressed some of the most influential women, including Kerry Washington, Reese Witherspoon, Julianne Moore, Diane Kruger and Kristy Turlington, among many others. Since debuting his collection in 2007, Wu has been dedicated to making beautifully created clothes from the inside out. He has focused on couture quality craftsmanship. More than 90 percent of the Jason Wu collection is manufactured in New York City.
He also expanded his line with the arrival of Grey Jason Wu, a sister brand. Grey Jason Wu shares the femininity from the Jason Wu collection, but a with more relaxed attitude. Named after his favorite color, Wu wanted to create a collection with relaxed, sophisticated silhouettes. In this new line, there are unexpected graphic prints that are representative of his personality.
At the Industria catwalk, the Ennyluap (pronounced in-a-lope) collection rocked the runway with Southern charm. Designed by Amanda Williamson for this First Stage presentation, the show featured very wearable garments. Her dresses of various lengths seemed perfect for the office or evenings out. She showed clothes that were made for the masses, an element that many labels ignored. Although several design houses created two completely different collections, one for the runway and one for sales, Ennyluap's customer wants to see runway looks that she can find on the rack of her favorite department store. The company's mantra is "Timeless Bold." They feature an assortment of blouses, pants, skirts and dresses.
For fall/winter 2018, Ennyluap opened with a nautical navy and white striped jumpsuit that was fit for a fashion influencer. To elevate the look, the ruffled sleeves were exaggerated. Office-appropriate garments included structured blazers, embellished skirts with pockets and conservative, fashionable dresses that make the seamless transition from cubicle to cocktail. Statement necklaces are pretty important for fall. There were lots of bow details, cape silhouettes and turtlenecks that trickled down the catwalk. A gorgeous, metallic floral appliqued cocktail dress closed the show.