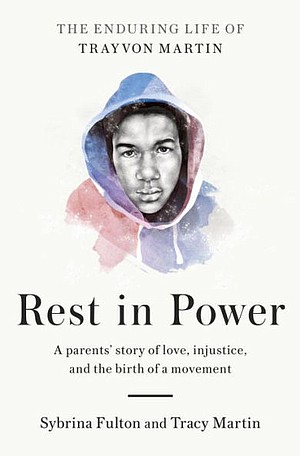 The old saying that we die twice—when we stop breathing and when there is no one left alive who still remembers us—is a less than subtle reminder that our lives have to have impact. We have to conduct our lives in a way that guarantees that we "live" beyond even those who knew us personally, so that we can continue to live on in collective memory.
"Reading Rest in Power: The Enduring Life of Trayvon Martin," by Sybrina Fulton and Tracy Martin is partly a re-living of the pain most of us felt as we understood the meaning behind the Feb. 26, 2012, murder of the 17-year-old. But the book, which is in many ways an alternating chapter-by-chapter meditation by Martin's parents on his life and death, and how it affected them —and now affects all of us—also gives us a unique chance to get to know more about who Martin was as an individual and the family life he came from.
Martin's parents were divorced at the time of his murder, but the book explains that they remained a couple in terms of co-parenting their son and helping to guide him toward his future. Martin's father, Tracy Martin, wrote, "I sat with him awhile, and talked more about his problems at school, his slipping grades and his suspensions, how he needed to get down to business when he returned to school if he wanted to go to college.
"'Because if you don't get into college, what are you going to do?' I asked him. He mentioned his cousins who were working at the Port of Miami, loading cargo ships. 'Dad, if I don't get into college, I could get a job at the port,' he said. 'Some of the guys working there make a $150,000 a year.'
"'Coming out of high school and going straight into the workforce shouldn't be your goal,' I told him. 'You should aim higher than that. You're only 17. You only have a couple of teenage years left. And your expectations should be getting higher as you get older. You don't want to get stuck in Miami all of your life. You need to take whatever chance you have to see the world.'"
And his mother, Sybrina Fulton, recalled, "Two summers before his death, Trayvon found his future in Opa-Locka, at the airport near our home. That summer, he joined Experience Aviation, a summer camp founded by the legendary pilot Barrington Irving. Irving was raised in inner-city Miami and, in 2007 at age 23, became the first Black pilot to fly solo around the world. Miami to Miami. The flight took 97 days and 26 stops to complete. He designed his summer camp to help kids become more knowledgeable about aviation and, through aviation, build their skills in other areas, including reading, math and science. One day at the camp, Trayvon sat in the cockpit of Barrington Irving's globe-trotting airplane. When he came home, he still had stars in his eyes. 'Mom, I know what I'm going to do,' he told me. He had decided on a career in aviation: either as a mechanic (because he could fix anything) or as a professional pilot. He couldn't decide which, except that he was determined to be around planes."