Locals notch world record in 4x800 relay
Lois Elfman | 2/8/2018, 2:41 p.m.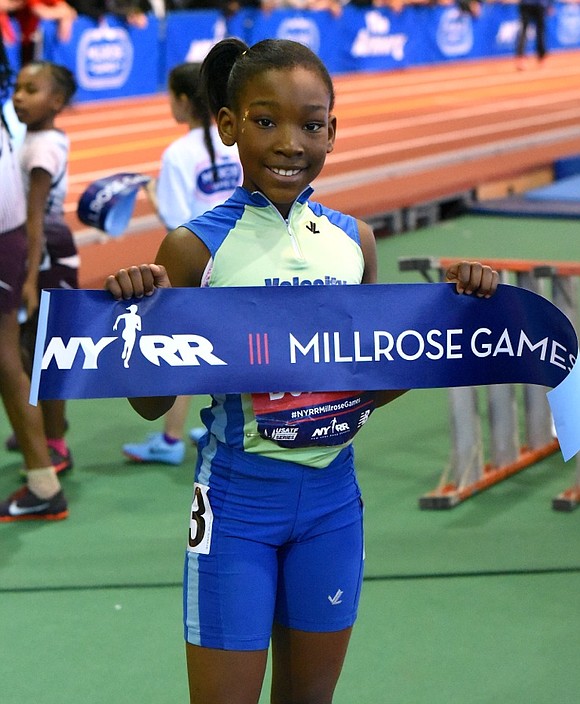 The 4x800 relay is not often contested, especially in indoor season, but it was the second to last event of the 111th Millrose Games. The officials have resumed the tradition of wearing tuxedos, and the packed house brought full energy and excitement.
With intensity undiminished at the end of an exciting day, the crowd was rewarded by an electric world record in the 4x800 relay. The winning team included New Jersey native Ajeé Wilson and Long Islander Charlene Lipsey, who now train together in Philadelphia.
"If it wasn't for the crowd, I don't think we would have pulled it off. I couldn't really tell pace, but the crowd was motivating me the whole time," said Lipsey, who wasn't fully confident in the baton handoff, but made it successfully. "We never ran as a team before, so working as a team and bringing home a record is a good feeling."
It was a sweet homecoming for New Jersey native Miki Barber, who grew up running at The Armory. She secured a win for the Garden State Track Club in the women's club 4x200 and also competed in the 60-meter dash. "It is home; I'm always happy to come back," said Barber. "All the kids make this meet special. You feel like Beyoncé when you come in the building."
It was repeat victory in the 55-meter dash for Brianna Burrell. With the race now called Fastest Kid in the World, Burrell gave it international flavor by representing her family's roots in Jamaica, West Indies. "I feel I've gotten better and worked harder," said Burrell, who enjoyed checking out the college and pro races. "Looking up to better people and seeing what I can improve on."
St. John's graduate and New Jersey native Priscilla Frederick was delighted that women's high jump was on the schedule. "I am humbled and blessed," said Frederick, who finished fourth. "This is my home turf."
The relays provided sweet revenge for Columbia University in the college 4x400, defeating last year's winners St. John's. "A few of us had a race yesterday, so that got us loose for today," said Sydney Petersen. "We came out and we had that energy and that fire."
Although Columbia track and field athletes are accustomed to competing at The Armory, the energy of Millrose with its packed house and avid fans is special. "A lot of time people forget that the Ivy League is part of Division I. It's great to show we can compete," said Akua Obeng-Akrofi.