Jersey high school wrestler forced to cut dreadlocks sparks outrage and an investigation
Vincent Davis | 12/27/2018, 1:49 p.m.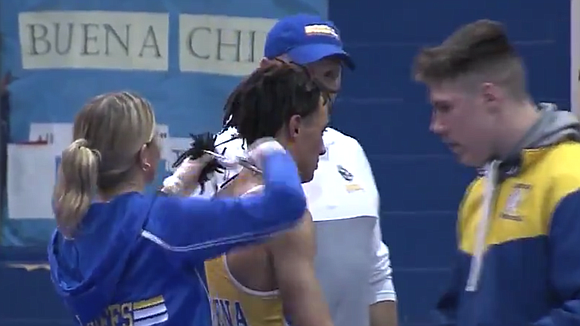 High school wrestler Andrew John- son was forced by a referee Wednesday, Dec. 19, to cut his dreadlocks to compete in a match representing his school, Buena Regional High, in Buena, N. J., located in the southern part of the state.
Johnson, who is Black, had a cover over his hair while preparing for the match, but referee Alan Maloney, who is white, wouldn't allow John- son to compete unless his dreads were cut. The alternative was to forfeit. In a statement, their family's attorney, Dominic A. Speziali, said that the referee told Johnson that his hair and headgear were not in compliance with league regulations.
"Andrew told the referee he could push his hair back, but the referee re- fused because Andrew's hair wasn't in its natural state," Speziali further stated.
A video of Johnson getting his hair cut minutes before the match by a woman identified as a team trainer, who was clearly neither a barber or beautician and was without proper tools for the job, went viral. The video was described as "racist," "cruel" and "humiliating."
Johnson, who went on to win the match, was visibly upset while having his hair cut, and after winning the match, and having his hand raised in victory by Maloney. In previous tournament matches held a week before,
Johnson wrestled without any issues. Jordan Burroughs, a 2012 Olympic gold medalist and world champion, posted and spoke on social media early Saturday about the incident that was also broadcast on many national television news outlets, saying he had never seen anything like it in a quarter-century of wrestling.
"This is nonsense," tweeted Bur- roughs. "My opinion is that this was a combination of an abuse of power, racism and just plain negligence."
In a video posted on Instagram, Burroughs criticized parents and the coaching staff at the match for not intervening, calling their compliance "absolutely shameful," while complimenting Johnson for how he held his head, handling the situation.
The New Jersey Division of Civil Rights has begun inquiries, as well as the New Jersey State Interscholastic Athletic Association and the New Jersey Board of Education. Maloney has been suspended from officiating until an investigation has been completed.
Recently, UPS has agreed to a $4.9 million settlement over a religious discrimination lawsuit regarding hair.
The EEOC had contended that since approximately 2005, UPS discriminated against employees who had beards or long hair in accordance to their religious beliefs by not hiring them, or giving them nonsupervisory or "back-of-the-facility" positions, where they would not have contact with customers, according to their statement.