Honoring the legacy of an icon: Dance Theatre of Harlem's Arthur Mitchell
Zita Allen | 12/27/2018, 11:56 a.m.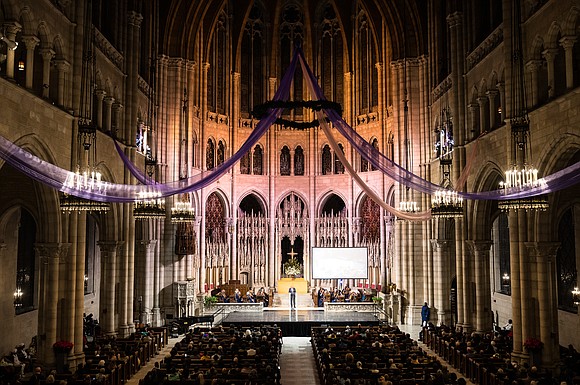 Arthur Mitchell's larger-than-life spirit filled the hallowed halls of Riverside Church as an overflow crowd paid tribute to a life well-lived and a legacy that will endure forever. Mitchell's life is a testament to the truth of the old saying: "You only live once, but If you do it right once is enough."
The message resonating through all the eulogies delivered to a man born in Harlem just blocks from the Dance Theatre of Harlem, the groundbreaking institution he created to ensure that hopes and dreams once dashed would no longer be deferred, was simple. Mitchell was loved and it is our duty to ensure that his legacy lives forever.
The evening that began with a processional of Mitchell's DTH family down the middle aisle of the church's cavernous nave behind percussionist Baba Donald Eaton's ensemble and past the more than 2,500 who had come to pay tribute to the man whose life meant so much to so many. The Rev. Debra Northern's opening prayer and the Rev. James A. Forbes Jr.'s spiritual reflection reminded us not to weep and mourn, but to rejoice and dance, a sentiment underscored by Ramona Dunlap's soul-stirring rendition of "Goin' Up Yonder," Valerie Simpson singing "Reach Out and Touch Somebody's Hand" and Remy Martin's performance of Frank Sinatra's "I Did It My Way."
But, it was Mitchell on an overhead screen who took control of it all by telling how his story began in his own words: "I was born on 113th Street and Lenox Avenue. I was the first child they were having after my eldest sister. And, I was turned sideways in my mother's womb and my father refused to take my mother to the hospital to get a caesarean. He had an old midwife and she turned me around inside my mother's body and I came out feet first and she said, 'This child will be a dancer!'"
With that auspicious beginning, the event that unfolded, thanks to a devoted DTH team that included Artistic Director Virginia Johnson, Anna Glass, Lorraine Graves, Vernon Ross, Ed Schoewer, Jeanette Simmons and Carol Wiggins and to the help of many devoted friends and family, was magical, as though Mitchell had choreographed it. Memorable moments included the nervous cousin, unexpectantly standing in for family members stuck in traffic. Tearfully she thanked everyone for celebrating "Uncle Junior" who "loved Thanksgiving and made sure that there was enough ham and turkey," and she shared how touched she was to "see the legacy he left." The audience embraced her with a standing ovation.
His friend, the beautiful and brilliant actress Cicely Tyson, was welcomed with thunderous applause as she shared memories of her dear friend, as if talking to him directly. "Arthur Mitchell. Arthur Mitchell. Arthur Mitchell, it never occurred to me that this day would come. I can't remember a day that you were not in my life."
She shared the story of their first meeting years ago. "I don't make it a habit of speaking to strangers, especially men," she said with a smile. "And, you stopped me that evening after I was performing in a production of Vinnette Carroll's 'God's Trombones,' and I was on my way home. I was walking west on Eighth Street, and I saw this very perfect-bodied male walking toward me. I stepped to the side to get out of his way. He moved with me. I looked at him. He extended his hand and said, 'My name is Arthur Mitchell. I'm a dancer.' I said, 'My name is Cecily Tyson,' and I started to move on. He said, 'I know who you are. I know what you do. I've been following you.'"