Black wrestler forced to cut locks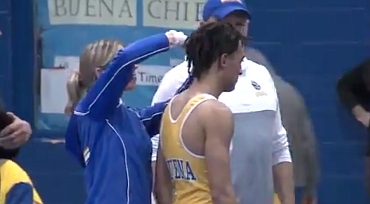 The fallout continues after a Black high school wrestler in New Jersey was forced to cut his locks by a white referee before a match.
The incident occurred last week at Buena Regional High School in Atlantic County, N.J., when Andrew Johnson, 16, was preparing to compete in a championship match when white referee Alan Maloney told Johnson to cut his hair. Maloney cited that the hair's length violated athletic regulations and that Johnson would have to cut it or forfeit the match.
The teen agreed to cut his locks, and a white female coach wearing rubber gloves cut handfuls of hair using shears. The incident was caught on video by SNJ Today News sports editor Mike Frankel, who posted it to Twitter. As of Wednesday the video has been viewed more than 15 million times. Johnson competed in the match and won.
Speaking through their attorney this week, the athlete's family weighed in on the situation and how it is impacting him.
"As we move forward, we are comforted by both the strength of Andrew's character and the support he's received from the community," they said. "The blame here rests primarily with the referee and those that permitted him to continue in that role despite clear evidence of what should be a disqualifying race-related transgression."
New Jersey activist Larry Hamm of the People's Organization for Progress asserted that if Johnson was white, he would not have had to cut his hair in public.
"His dignity was violated," Hamm said. "It almost looked like he was on the auction block. His hair should have been cut privately. Officials in authority at various levels share the blame for this from the referee, to the coaching staff, the teaching staff and the administrative staff."
Outrage was swift as video of Johnson getting his hair cut went viral. Critics say the incident was racially motivated and that Maloney was attempting to take away Johnson's racial identity.
The referee has a checkered past when it comes to race relations. Maloney previously called a Black referee a racial slur at a party in 2016. The New Jersey State Interscholastic Athletic Association has reportedly pulled Maloney from officiating any matches as the investigation continues.
"Regulations regarding hair length and legal hair covers for wrestlers are provided by the National Federation of State High School Associations," NJSIAA said in a statement. "At this point, the NJSIAA is working to determine the exact nature of the incident and whether an infraction occurred."
Backlash has even come from the highest levels of government in New Jersey over the incident. The state's Civil Rights Commission has opened an investigation into the matter.
"Deeply disturbed that Andrew Johnson, a student at Buena Regional H.S., was forced to choose between keeping his dreadlocks and competing in a wrestling tournament," New Jersey Gov. Phil Murphy said on Twitter. "No student should have to needlessly choose between his or her identity & playing sports."
An emergency meeting was held Wednesday by Buena Regional Board of Education to discuss the matter.