Cuomo says the quiet parts out loud in agenda speech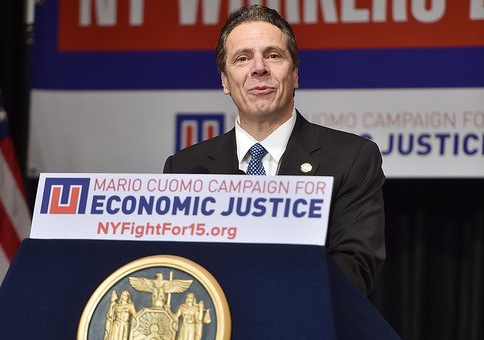 "In November New Yorkers voted overwhelmingly to change directions in Albany—and now it's time for Albany to deliver," added Charles Khan, organizing director for the Strong Economy for All Coalition. "We're putting every lawmaker on notice: the watered down policies of the past don't work. We're united in our first demand: get big money out of politics and get real money into our communities. We're holding Albany accountable for action, and that means passing the People's Platform."
Along the lines of racial and social justice, Cuomo also recommended ending cash bail around the state, citing how it punishes lower-income New Yorkers.
"And let's end the injustice in our criminal justice system," said Cuomo. "The first step is to replace the cash bail system. A judge should determine the individual's risk of release rather than the individual's access to wealth. And that's why we need to take the cash bail system and end it once and for all."
"Now, the agenda I have outlined is ambitious, indeed," continued Cuomo. "I understand that. I have worked in government a long time on many levels and I understand how hard it is to make dramatic change in government. The lines on my face are proof of how hard it is. But I also know that few great achievements are ever done without pain."
New York Civil Liberties Union Executive Director Donna Lieberman hopes that Cuomo comes through on all of his plans to make New York State the liberal bastion he wants it to be. She knows that the governor won't get help from Washington, D.C.
"It's a new day in New York. With changed leadership in Albany, our state Legislature has the opportunity—and the mandate—to transform New York into the state that we've always envisioned, one that secures fairness and equality for all New Yorkers," stated Lieberman. "President Trump has made it abundantly clear that his administration will continue to undermine the principles that uphold our democracy, but we can resist by making New York a beacon for humane values and democracy."