Cuomo says the quiet parts out loud in agenda speech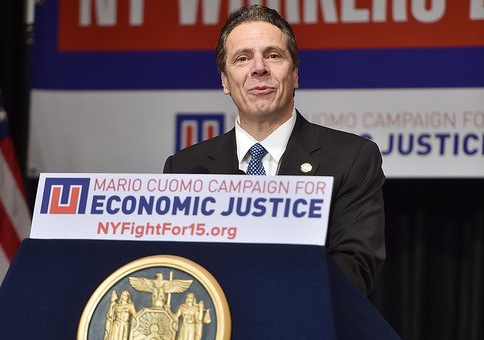 New York State Gov. Andrew Cuomo's "First 100 Days" speech didn't surprise many this week. But the governor stating things he previously said quietly or that were pure speculation by pundits did its job in putting Albany on notice.
Cuomo spoke to the New York Bar Association Monday, unveiling his agenda for the first 100 days of his new term. The governor highlighted his desire to cut taxes for working-class New Yorkers, increase the waiting period to purchase a firearm, keep the millionaires' tax and fight against the $10,000 annual limit on federal deduction for state and local taxes.
But the governor made some waves by openly advocating for the legalization of recreational marijuana in the state.
"We will advance our justice agenda and particularly address the forms of injustice that for too long have unfairly targeted the African-American and minority communities," said Cuomo. "FDR said, 'No democracy can long survive which does not accept as fundamental to its very existence the recognition of the rights of its minorities.' And the fact is, we have had two criminal justice systems: one for the wealthy and the well-off, and one for everyone else. And that's going to end. We must also end the needless and unjust criminal convictions and the debilitating criminal stigma and let's legalize the adult use of recreational marijuana once and for all."
Earlier this year, Cuomo and the State Health Department released a report recommending Albany legalize recreational marijuana. The report concluded that taxes from marijuana legalization would bring in more than $1.3 billion annually in sales and recreational marijuana should be made available across the state to those of age.
Kassandra Frederique, New York State director of the Drug Policy Alliance, praised Cuomo for his open stance on marijuana legalization but wants him to help out the communities hurt by its criminalization.
"Governor Cuomo and the legislature must implement legalization in a way that ensures equity and diversity, while reinvesting in the communities hit hardest by marijuana criminalization," said Frederique in a statement. "The Marijuana Regulation and Taxation Act does all of these things, so Governor Cuomo and the new Democratic majority have a golden opportunity to get legalization done the right way, right away."
The Marijuana Regulation and Taxation Act, sponsored by New York State Sen. Liz Krueger, would legalize, regulate and tax marijuana under state law similar to how alcohol is regulated. At a recent news conference, Krueger said legalization would not only help the economy, but stop the over-policing of certain people when it comes to marijuana.
"Prohibition of marijuana is a policy that just hasn't worked, no matter how you look at it, and it's time to have an honest conversation about what we should do next," said Krueger. "The illegal marijuana economy is alive and well, and our unjust laws are branding nonviolent New Yorkers, especially young adults, as criminals, creating a vicious cycle that ruins lives and needlessly wastes taxpayer dollars.
"Worst of all, this system has resulted in a civil rights disaster: African-Americans are dramatically more likely to be arrested for pot possession than whites, despite similar rates of marijuana use among both groups."