Hastings makes strides off the track
LOIS ELFMAN | 8/24/2018, 11:08 a.m.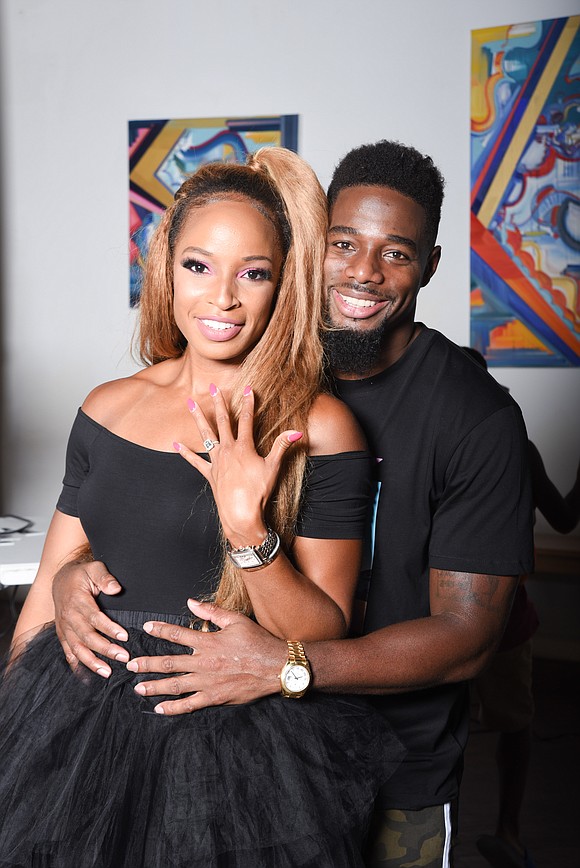 Forced to miss outdoor track season because of an injury, Natasha Hastings has nonetheless been busy with projects. Her birthday party in July served as the official launch for the 400m Diva Collection. Known for her glamorous look on the track, Hastings has always wanted to get involved in the beauty business, and a line of lashes seemed natural.
"The last couple of years, I've been very intentional about knowing that my time on the track is almost up. God willing, I will make it through one more Olympics, but I'm definitely planning for life after track," said Hastings, who was honored in April by her alma mater, A. Philip Randolph Campus High School in Harlem.
"I always compete wearing lashes," said Hastings. "If I have lashes on, I feel I have on some glam. I do plan on growing the business into a full beauty line."
With names in homage to Hastings' track career—Golden Spikes, Anchor Leg, Golden Girl, Forty-9, Spike Up and Hasty Hastings—the lashes range from simple to edgy. Hastings was served a huge surprise at her launch party, when boyfriend William Gay, a cornerback for the New York Giants, dropped to one knee and proposed.
Hastings continues to grow her Natasha Hastings Foundation, and she is hosting the Tea Time Inaugural Gala: An Evening of Empowerment in Manhattan Sept. 26 (details available at nhfcares.org/tea-time-gala). Performers include Music With a Message Band, Crystal Valentine (poet) and Safia Elhillo. Reflective of the female empowerment theme, she is working with mostly female entertainers and vendors. Funds raised will go toward sending five athletes to the High School Nationals in 2019.
The goal is to expand her Tea Time events for girls, which combine sports with discussion of health and self-esteem. Although glamour is part of her brand, it's crucial to Hastings that she imparts the message to girls and women that beauty is also internal.
"I want my brand to reflect that," said Hastings, who is hosting a Tea Time with Tasha event Sept. 22 in Westchester and wants to grow the foundation's programming. "I want to emphasize the importance of the beauty coming from how you feel about yourself."
Rehabbing her right knee after treatment for a torn meniscus and stress fracture, Hastings plans to resume training later this year and be ready for 2019 indoor season.