In sports, domestic abuse once again tests decisions of morality
Jaime C. Harris | 8/9/2018, 1:22 p.m.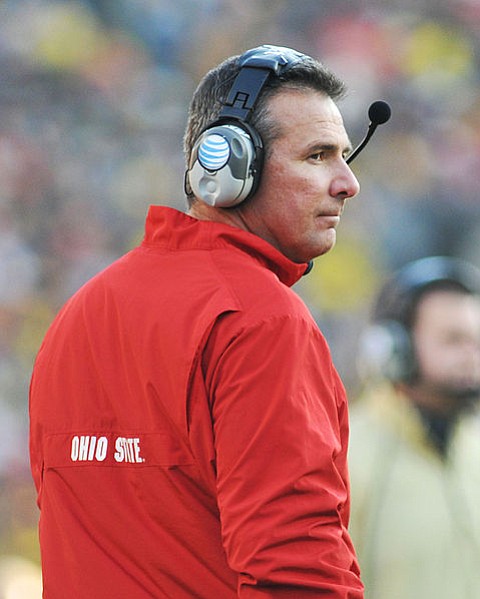 Ohio State University head football coach Urban Meyer is one of the most powerful men in college sports. At most major colleges, football drives the revenue of the athletic department and generates millions of dollars for the university as a whole.
It also provides the school a proud identity and widely recognizable brand, compelling wealthy alumni to donate millions more dollars that are allocated to attracting some of the world's most prominent educators, upgrading facilities and providing financial assistance to the general student body.
Last September, The Wall Street Journal published an article titled "How Much Is Your College Football Team Worth?" that stated, "Which team is the most valuable? That would be Ohio State, which has surged to a $1.5 billion valuation, according to an analysis by Ryan Brewer, an associate professor of finance at Indiana University-Purdue University Columbus."
That is directly the result of the leadership of 54-year-old Meyer, who since taking over the program in 2012 after six highly successful seasons as the head coach at the University of Florida—where he won two national championships—has compiled a record of 73-8, including a spectacular 47-3 in Big Ten Conference games and leading Ohio State to the school's eighth national championship in 2014.
The football program's economic stature is the sole reason Meyer will not be fired by school president Michael V. Drake, despite Meyer's evident knowledge of Zach Smith, one of his former assistant coaches, persistently physically and mentally abusing his now ex-wife, Courtney Smith.

The abuse purportedly began in 2009, when Smith was an assistant at Florida, and allegedly continued until this past May, according to court records in Ohio. Meyer admittedly was aware of the abuse allegations from 2009, but July 24 at Big Ten Media Days, he denied knowing about an incident that took place in October 2015, when Courtney Smith was allegedly physically abused by Zach Smith while she was pregnant. Smith was fired by Ohio State July 23.
Then Aug. 3, Meyer released a statement asserting he, in fact, knew about the alleged 2015 incident and went through the proper process of reporting it to Ohio State personnel. In effect, he initially lied when queried by reporters. Last Wednesday, Meyer was placed on administrative leave. Sunday night, the school announced in a statement the investigation of Smith will be completed within 14 days.
The alleged abuser and Meyer have a long and deep relationship. Smith is the grandson of Meyer's mentor, the late Ohio State head coach Earle Bruce. Smith played for Meyer when he was the head coach at Bowling Green in the early 2000s. Meyer later hired Smith to work on his staff at Florida and brought him along as an assistant at Ohio State.
He could have chosen not to turn a blind eye to Smith's behavior and cut professional ties with him. Instead, Meyer handed him the wide receivers coaching position at Ohio State. Given that error in judgement, Meyer should have summarily fired Smith, whose wife, Courtney Smith, had been sharing the horrific accounts of the abuse with Meyer's wife, Shelley, upon learning of the 2015 incident.
Ohio State University President Drake didn't flinch in firing the school's marching band director, Jon Waters, in July 2014, after a university investigation found that the band's "sexualized culture" was "inconsistent with the University's values and Title IX requirements," as outlined in a report.
Was Smith and Meyer's behavior inconsistent with the school's culture? The answer is obvious. One can employ an argument of moral equivalence, but the fact is Meyer deserves the same fate as Waters. But Waters was expendable, whereas Meyer is the steward of college sports' richest program. In this case, money nullifies morality.