So far to go: Black Women and the wage gap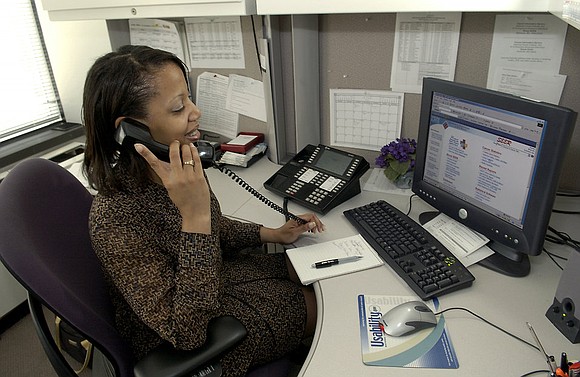 "There weren't any rules or regulations based on your work experience or title," said Federation of Protestant Welfare Agencies Executive Director Jennifer Jones Austin at the National Urban League headquarters Tuesday morning. "And I assumed a senior vice president role." It took her about six months to learn that two of her colleagues, who also served in senior VP roles at the nonprofit, made more money than she did. When she confronted her bosses about it, she was met with excuses.
"I was told, 'Well one is managing the finances and one of them is helping to raise the money,'" said Austin. "But I'm building the product. I actually had to fight for it."
Austin was part of a panel discussion co-hosted by the Essence magazine and the New York State Council on Women and Girls about the wage gap and Black women. It's the first of several regional forums that will be held across the state addressing economic security and opportunity.
Although Austin was talking about her first nonprofit job, she could've easily been talking about any workplace in New York City and New York State.
Tuesday marked Black Women's Equal Pay Day and reports from local government officials showed how wide the wage gap is between Black women and white men.
A new analysis by New York City Comptroller Scott Stringer showed that in 2016, Black women working full time in the five boroughs made 57 cents for every dollar paid to white, non-Hispanic men, earning an average of $32,000 less annually, and the wage gap for Black women in the city is larger than for Black women in New York State and in the United States.
When extracted to cover a 40-year working career, the median full-time working Black woman in New York City would make $1.27 million less because of the gender wage gap. According to the report, a Black woman in New York City would have to work 30 additional years to attain the same level of earnings as white men in the city.
"In a city like New York that touts its progressive ideals, it is an outrage that Black women in 2018 are still denied economic equality," said Stringer in a statement. "As a city we're failing to level the playing field for Black women and denying them the opportunity to buy their own home, pursue more education or have economic security. They should not have to work an additional 30 years to earn the same living as a white man. If New York is going to continue to be a progressive leader in this country, city leaders need to put immediate plans into action."
The panel at the National Urban League headquarters also included NAACP New York State Conference Head Dr. Hazel Dukes, New York State Department of Civil Service Acting Commissioner Lola Brabham, Black Women's Blueprint Executive Director Farah Tanis, Carver Federal Savings Bank Chief Lending Officer/Senior VP Blondel Pinnock and UFT VP for Academic High School/NYC Central Labor Council Secretary-Treasurer Janella Hinds.