Marshall 'Major' Taylor, the 'Black Cyclone' of cycling fame
Herb Boyd | 4/26/2018, 12:12 p.m.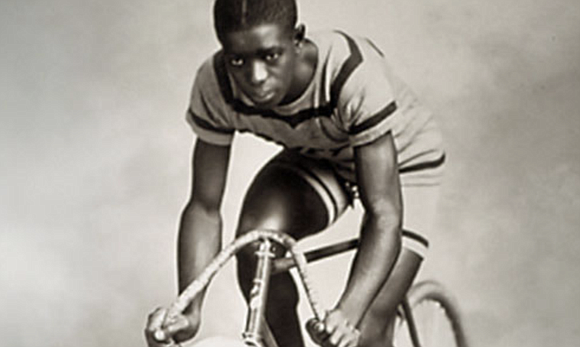 To compete in many of the top races required membership in established groups, and Taylor often shifted from one to the other to meet event rules and regulations. As a Baptist, he was additionally handicapped by his refusal to race on Sundays. In fact, he had his membership suspended in one group for his refusal, but he was reinstated after joining another group. All of that was occurring at the peak of his illustrious career, and in 1898-1899, he established seven world records in distances from the quarter mile to the two mile, and various distances between. His one-mile record from a standing start at 1:41 stood for 28 years.
After attaining the cycling championship in 1898, Taylor was the second Black athlete, besides George Dixon, the bantamweight boxer, to be crowned a world champion. A dispute arose after his victory and his being designated the world champion. It was charged that Taylor had not competed against the best racers and thereby his championship claims were null. Only by the declaring of two champions was the race community appeased.
At the dawn of the 20th century, with a new governing body of professional cycling, Taylor's career was endangered. When Taylor agreed to pay a $500 fine for not competing, he was readmitted into the spring championships, which he won on points in 1900. A year later, after setting records in U.S. and Canada, Taylor embarked on a European tour. But once more his religious convictions, his refusal to race on Sundays, when most of the races occurred, limited his performances. Even so, he won 42 of the 57 races he entered. His head-to-head races against the French champion, Edmond Jacquelin, were the highlights of the tour, and they split their two races.
In 1902, he distinguished himself with similar successes, and by then he had extended his tour to include competitions in Australia and New Zealand. Overall, the tour was quite lucrative, with him earning an estimated $35,000 in prize money. All of the victories and the accumulation of prize money did not stem the racism and intimidation he endured. The stress became a challenging burden, forcing him to take a break for two years. But by 1910, although still picking up trophies and cash, Taylor decided to return home to Worcester, Mass., and call it quits.
Upon retirement, he wrote his autobiography, "The Fastest Bicycle Rider in the World," which he self-published and sold himself to make ends meet. The book and his vaunted reputation, however, were not enough to keep bill collectors at bay or to keep him from sinking deeper into poverty. In 1932, he had a heart attack, along with a number of other ailments. He died in Chicago. Taylor was survived by his wife and daughter from whom he was estranged, but no one claimed his body and he was initially buried in a pauper's grave before being exhumed and given a more honorable resting place.
His legacy has been retained in film, song and his induction into U.S. Bicycling Hall of Fame in 1989. The Velodrome in Indianapolis is named after him as is a boulevard in Worcester.
"Practice clean living, fair play and good sportsmanship" was his advice to young people. He more than practiced what he preached.