Remembering No. 42, Jackie Robinson
4/15/2018, 11:29 a.m.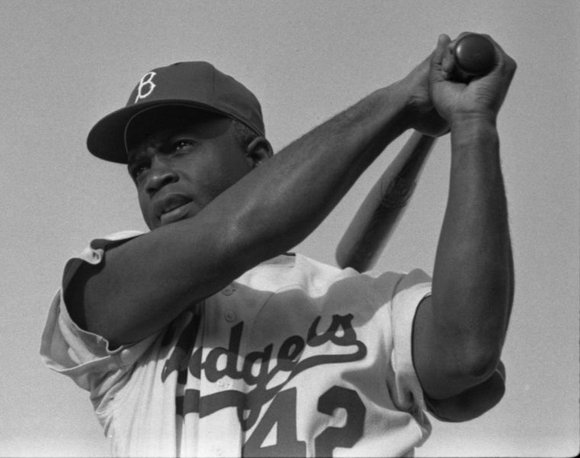 On the Diamond: Minor Leagues
In 1945, Robinson was offered a chance to play with the Kansas City Monarchs for $400 a month ($5,100 today). He played 47 games. That same year, Robinson participated in a tryout for the Boston Red Sox, which proved to be more of an exercise than an actual opportunity, as they would be the last major league ball club to integrate its roster.
Branch Rickey, president and general manager of the Brooklyn Dodgers, began scouring the Negro Leagues for talent. In addition to having skills on the diamond, the player would also have to have a strong cheek and be willing to turn it when provoked. Rickey chose Robinson. In a famous exchange on Aug. 28, 1945, Rickey asked Robinson if he could face the racist barrage without anger. Robinson said, "Are you looking for a Negro who is afraid to fight back?" Rickey replied that he needed a Negro player "with guts enough not to fight back." Rickey signed him for $600 a month ($7,500 today). The arrangement was made in secret.
On Oct. 23, the announcement came that Robinson would be assigned to the Royals. While not the best player in the Negro Leagues--Satchel Paige and Josh Gibson were considered better skilled--Robinson became the first Black baseball player in the International League since the 1880s.
Robinson's capacity for restraint was tested as soon as he showed up for spring training in Florida. He was not allowed to stay at the team hotel. The police chief in Sanford, Fla., vowed to cancel games if Robinson and Johnny Wright, another Black player signed by Rickey, continued to train. Robinson made his debut as a Royal on March 17, 1946, in an exhibition game against the Dodgers, becoming the first Black to play for a minor league team against a major league team.
On April 18, 1946, Robinson made his debut against the Jersey City Giants. He was named Most Valuable Player. After the 1946 season, he returned to California and briefly played basketball for the short-lived Los Angeles Red Devils.
Major leagues at last
On April 15, 1947, Robinson stepped onto Ebbets Field as a Brooklyn Dodger before a crowd of 26,623 fans, more than half of whom were Black. The color line of Major League Baseball was finally and irrevocably broken.
Robinson suffered off the field as some of his own teammates refused to play with him. However, Manager Leo Durocher defended Robinson and threatened to trade players. The St. Louis Cardinals threatened to strike if Robinson played. Teams played unnecessarily rough and hard against him. His teammate Pee Wee Reese famously said of Robinson, "You can hate a man for many reasons. Color is not one of them." Hank Greenberg, who had his own run in with racism, told Robinson to overcome his critics by defeating them in games.
Robinson finished his first season batting .297 and led the National League in stolen bases with 29, earning baseball's first Rookie of the Year Award. Two years later, in 1949, he won the National League's Most Valuable Player Award, leading the league with a .342 batting average and 37 stolen bases. Robinson was a boom for ticket sales as more than a million people attended games that he played in.