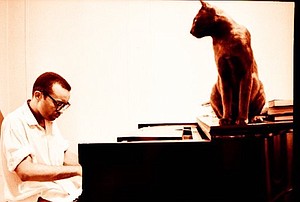 Taylor, along with Tanaka, was the subject of Amiel Courtin-Wilson's 2016 documentary film "The Silent Eye."
"Cecil spoke of Darkness, his code name for Miles Davis, and how they were from different parts of the continuum," said the pianist/composer James Hurt. "Upon listening, it became evident that Cecil was sharing something deeper, 'freedom of expression,' as the American Negro's time machine. Cecil's music approached infinity. He used his artistry to fold space-time, hurling the listener light years into the future."
Taylor was born March 25, 1929, in Corona, Queens, N.Y., where he was also raised. He began playing piano at the age of 6 after being encouraged by his mother.
He went on to study at the New York College of Music and the New England Conservatory, where he majored in music composition and arranging.
While studying there, he was influenced by the works of Hungarian pianist/composer Bela Bartok (considered one of the most important composers of the 20th century) and the German composer Karlheinz Stockhausen, "called one of the great visionaries of 20th-century music."
In 1960, the alto saxophonist Jimmy Lyons (who became Taylor's main collaborator) and drummer Sunny Murray joined the band (and later Andrew Cyrille joined) forming the core personnel of The Unit, Taylor's primary group effort until Lyons' untimely death in 1986. During 1962, the quartet spent six months in Europe (with Albert Ayler in the group for a time).
Taylor began performing solo concerts in 1967. The first known recorded solo performance was "Carmen With Rings" by Dutch radio in De Doelen concert hall in Rotterdam July 1, 1967. His piano solos continued on albums such as "Indent" (1973), "Fly! Fly! Fly! Fly! Fly!" (1980) and "For Olim" (1986).
As his reputation grew, he began lecturing as an in-residence artist at universities and had the opportunity to play on the White House lawn for President Jimmy Carter.
"Cecil was the father of a movement," said saxophonist, composer, arranger and poet Oliver Lake. "He was outspoken. He was brilliant. His playing left you speechless and breathless. His music lives! He will be missed!"
After Lyons' death in 1986, Taylor formed the Feel Trio in the early 1990s with the bassist William Parker and drummer Tony Oxley. The trio can be heard on "Celebrated Blazons, Looking" (Berlin Version), "The Feel Trio" and the 10-CD set "2 Ts for a Lovely T."
Compared with The Unit, the Feel Trio had a more improvisational abstract flow that laughed on the periphery approach, rather than yield to the components of
the jazz tradition.
With an eagerness to explore all possibilities, Taylor performed in projects with big bands and large ensembles. His 1988 extended Berlin residency was documented by FMP, the German label, and resulted in a colossal boxed set of performances in duets and trios with elite European improvisers that included Oxley, Derek Bailey and Louis Moholo.
Many of his recordings were released by European labels, with the exception of "Momentum Space" (a meeting with Dewey Redman and Elvin Jones) on Verve/Gitanes. His 1998 Library of Congress performance "Algonquin," a duet with violinist Mat Maneri, was released by the classical label Bridge.