Green jobs in East New York
AMADI AJAMU | 4/12/2018, 12:28 p.m.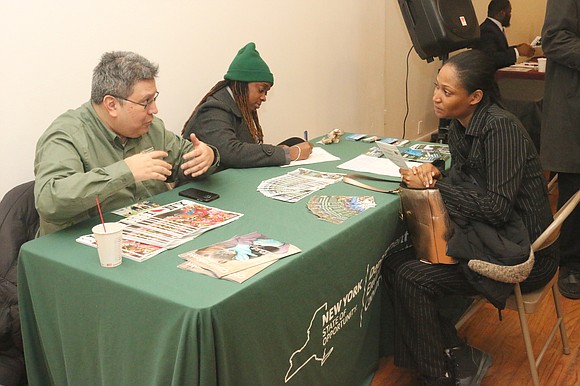 East New York Restoration Local Development Corporation has a hands-on approach to job development in East New York, Brooklyn. Working in partnership with Man Up! Inc., they have implemented job readiness programs throughout the area. East New York Restoration Executive Director Colette Pean organized a Green Jobs Fair April 5, 2018, focusing on job opportunities.
"We've been in existence for five years," explained Pean. "We started East New York Restoration LDC with the Gateway Mall community benefit agreement. This Green Job Informational Fair is part of our city-funded green initiative. We want people to know about the kinds of jobs available in the green economy. We've brought in representatives from the New York State departments of Environmental Protection, Environmental Conservation, New York City Housing Authority, Sanitation, Parks and Recreation, Man Up!, Brownsville Jobs-Plus, Job Corps, Madison Square Park Conservancy and many others."
Pean continued, "They are offering job opportunities from entry level, internships, seasonal, to career level jobs for those with degrees who can promote living in a healthy environment, developing the power of the people and transforming our communities."
Man Up! representative, Brother Richie, said, "We like to spend a couple of hours a day with people to get to know who our people are and what skills they have before we place them. Our job development center has implemented a Ready 4 Work program, which requires two hours a day for one week where we do orientation, searching  for jobs, assisting with job leads, resume help, job referrals, how to ace the interview, keeping the job and a certificate of completion. Because once you come to Man Up! it holds a lot of weight." Contact Man Up! at 718- 498-2320.
Among the many agencies participating, a standout was the New York State Department of Environmental Conservation (https://www.dec.ny.gov/energy/44992.html),  which deals with climate change, energy and pollution control including air and water.  Check their career and job opportunities at https://www.dec.ny.gov/searchresult.html#stq=employment&stp=1 today.
The Community Relations Office is the base for all operations for East New York Restoration. Located at 1159 Elton St., on the Elton Street Corridor, the office serves as a liaison between new and existing businesses and the community. The CRO works to bridge the gap between the businesses and the community by creating events that help to transform the community of East New York and surrounding neighborhoods, while offering the businesses a platform to establish themselves as being community centered through major marketing campaigns.
In addition, the CRO partners with various community-based organizations through the Federation of Nonprofits, which was created to highlight, enhance and expand existing programs in arts and culture, education, mentoring and athletics.
For more information, contact East New York Restoration LDC at 718-676-5920 or info@enyrestorationldc.org.